Vancouver's Olympic Village struggles with new role
Ambitious plans to create a new community around housing built for athletes have faced some hurdles, but the area is finally starting to come to life.
When the 2012 Summer Olympics end, London's Olympic Village will remain, to be turned into
rental housing
.
Transforming the housing built for athletes into a residential community once the games are over isn't always easy, as Vancouver, British Columbia, has learned.
The
Olympic village
built for the 2010 Winter Olympics is still struggling with some issues, including a
leak discovered this month
in the community center. Initial condo sales at prices of more than $1 million Canadian didn't fly.
Post continues below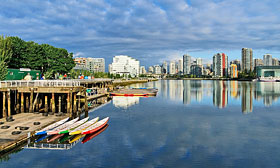 "For us personally, living in the neighborhood, yeah, we're seeing some positive changes, but I think it's a bit slower than was being expected," resident Goran Yerkovich
told News 1130 earlier this year
.
Vancouver's plan calls for the Southeast Falls Creek area, a former shipyard, to become home to 12,000 residents in in 6,200 eco-friendly units by 2020. The former Olympic Village is the centerpiece of the development.
Turning the vision into a community has taken more patience than the city initially predicted. A year after the Olympics ended, the village was a virtual
ghost town,
as developers struggled to find buyers for 737 units in 16 midrise buildings; an additional 371 units are affordable or rental housing. The original developer's financial problems pushed the project into receivership.
"The village was the first phase in the planned redevelopment of a former industrial site. Well-designed and on a prime waterfront site in the heart of the city, it should have been a commercial success," 
The Economist wrote
.
Since the price cut, more than 70% of the condos in the former Olympic Village have sold, and all the rental units are occupied. In March, developers rolled out
40 new luxury units
, ranging in price from $1.6 million to $7.3 million. Twenty-one sold in the first week.
Challenges remain, but the future is looking brighter for the area.
"Whenever you're building a development like this in time for the Olympics, you're doing it in an order that's a little different from what the market would suggest," Brent Toderian, Vancouver's planning director,
told BC Business
. "There's a great long-term vision here that just requires a little patience."
About Teresa Mears
Teresa Mears is a veteran journalist who has been interested in houses since her father took her to tax auctions to carry the cash at age 10. A former editor of The Miami Herald's Home & Design section, she lives in South Florida where, in addition to writing about real estate, she publishes Miami on the Cheap to help her neighbors adjust to the loss of 60% of their property value.
msn real estate is social
FIND YOUR DREAM HOME OR APARTMENT
WHAT'S YOUR HOME WORTH?
HOME IMPROVEMENT PROFESSIONALS
from our partners