New York mayor pushes micro-apartments
Not only should soft drinks be smaller, but living units also should, Michael Bloomberg suggests. His goal is to create more housing for smaller households.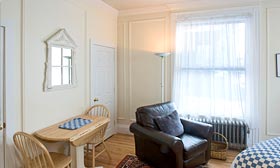 If you thought New York City apartments couldn't get any smaller, Mayor Michael Bloomberg disagrees.
He is asking developers to submit proposals for a new building made up of "micro-apartments" of 275 to 300 square feet. As envisioned by the mayor, the units would have bathrooms and kitchens, windows even, but no closet — which seems like an epic fail from the beginning.
You might learn to live with less closet space but NO closet space? We think the mayor's design can be improved. His honor, by the way, has a 12,500-square-foot townhouse.
Post continues below
While a number of New Yorkers live in less than 300 square feet, city zoning laws require that most apartments be more than 400 square feet. And the city has just 1 million studio and one-bedroom apartments to accommodate 1.8 million households of one or two people, the mayor said.
"We want people to come here — to start out, start their careers here, start their families here — and if you don't have the kind of housing that they need, they can't do that," Bloomberg said.
The apartments might rent for less than the market rate of $2,000 a month, which sounds like a lot but could be a deal in New York City. The final price is up to the developer.
You can see the mayor's suggested floor plan and see how it looks with two people inside it here.
Perhaps the proposed ban on supersize soft drinks is to help New Yorkers fit into smaller spaces.
San Francisco is considering a proposal to allow apartments as small as 220 square feet, though that proposal calls for closets.
While New York City and San Francisco are looking at smaller apartments as an issue of economics, an entire cult has grown up in celebration of small-space living, whether it's a 78-square-foot apartment, a house on wheels or a family home of just 168 square feet.
"What people have noticed is that it's stressful to deal with a lot of things," Janel Laban, the executive editor of the popular désign website Apartment Therapy, told The New York Times. "Living more simply, as you're forced to do in a small space, you can find that life is less stressful."
We're not sure living without a closet would be stress-free, especially in 300 square feet, but we agree with Laban's premise that less stuff often equals less stress.
Could you live in a 300-square-foot apartment? And how would you design it?
FIND YOUR DREAM HOME OR APARTMENT
msn real estate is social
WHAT'S YOUR HOME WORTH?
HOME IMPROVEMENT PROFESSIONALS
more on msn real estate