Pending home sales rise, but woes persist
The surge looks encouraging, but it follows three months of decline. Buyers remain wary, and contract cancellations remain frequent.
Here's another one of those glimmer-of-hope statistics:
The number of Americans who signed contracts to buy an existing home rose 10.4% in October, hitting its highest level this year, the National Association of Realtors reported. The rate was 9.2% above October 2010.
Once again, the numbers sounds good but they may not mean much. The increase
followed three months of decline.
"Bottom line, with record low prices, record low rates, record high pending cancellations, the 8.3% month-over-month change is far worse than average," mortgage analyst Mark Hanson told Diana Olick of CNBC's "Reality Check" blog.
Post continues below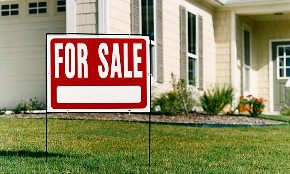 The NAR's Pending Home Sales Index measures contracts signed, but not completed deals. Over the past year, a higher than normal percentage of deals didn't close, reflecting difficulties with financing and appraisals, as well as a greater tendency of would-be buyers to get cold feet.
First-time buyers are making up a smaller percentage of the market, as even those who can afford homes and qualify for mortgages are questioning whether they want to buy.
"I've looked for a home, but the places we can afford with the money we have are not that great," Seth Herter, 23, a store manager in suburban St. Louis, told The Associated Press. "It also doesn't seem smart anymore to buy with prices falling. Buying a home just doesn't make sense to us."
Still, the industry and analysts were happy to see an index increase rather than decrease.
As Ian Shepherdson, chief U.S. economist at High Frequency Economics, told The Wall Street Journal:
"The index dropped by a total of 7% over the previous three months, so this is mostly a rebound rather than a surge from a steady trend, but it is welcome nonetheless. It also is consistent with the recent strengthening in homebuilder sentiment and the modest pick-up in mortgage applications. In short, something seems to be stirring in the housing market, though we would certainly hesitate before calling a definitive start of a recovery."
Here are the numbers by region:
Northeast: Contracts were up 17.7%, which was 3.4% above October 2010.

Midwest: Contracts were up 24.1%, which was 13.2% above October 2010.

South: Contracts were up 8.6%, which was 9.7% above October 2010.

West: Contracts feel slipped 0.3%, but were up 8.1% over October 2010.
FIND YOUR DREAM HOME OR APARTMENT
msn real estate is social
WHAT'S YOUR HOME WORTH?
HOME IMPROVEMENT PROFESSIONALS
more on msn real estate