Artist creates houses in fabric
His creations explore cultural displacement and our relationships with the places we live. Sometimes that requires a billowy red fabric staircase.
I always like interesting architecture, even creations you can't live in.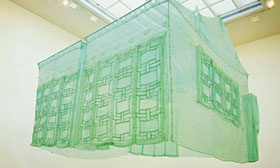 Browsing around the Internet, I came upon the work of Do-Ho Suh, an artist from South Korea who lives in New York.
Suh uses fabric, resin and Styrofoam to create his own artistic interpretation of architecture, ranging from miniature furnished houses to life-size red, billowy flights of stairs. His works explore cultural displacement and our relationships with space and the places we live.
His upcoming exhibit, Sept. 8 through Oct. 22 at the Lehmann Maupin Gallery in New York City, is called "Home Within Home." Architizer has some more photos of his work, including the photo of the red fabric staircase.
One of the pieces that will be part of the New York exhibit is "Fallen Star 1/5," a model of a traditional Korean house that collided with a 19th-century American mansion. The models were built at one-fifth scale and are symbolic of the artist's relationship with his journey from South Korea to the United States.
Post continues below
One of Suh's first architectural fabric pieces, created in 1999 (and pictured here), was inspired by his first apartment in New York City, so much noisier than his childhood home in Korea. You can read the story of how he conceived and created the work at PBS's Art 21 portal, which also has videos and more photos of his work.
The fabric home could be carried in a suitcase, which has its own symbolism. As Suh exhibits the piece in more cities, he adds those places to its name. So far it is called "Seoul Home/L.A. Home/New York Home/Baltimore Home/London Home/Seattle Home." He told Art 21:
I mean at some point in your life you have to leave your home. And whenever you go back it's just not the same home anymore. I think home is something that you carry along with your life. That's what I mean by it's something that you can repeat over and over again. I just dealt with that issue visually. In a physically minimum way, it's this light fabric thing that can recreate this ambiance of a space. I didn't want to sit down and cry for home. I wanted to more actively deal with these issues of longing. I decided not to be sad about it. I just want to go with it. I just want to carry that with me, you know, all the time.
FIND YOUR DREAM HOME OR APARTMENT
msn real estate is social
WHAT'S YOUR HOME WORTH?
HOME IMPROVEMENT PROFESSIONALS
more on msn real estate