Would turning foreclosures into rentals help?
Analysts suggest an REO-to-rental program wouldn't do much to help home prices. It's also possible the government would have to offer subsidies to investors.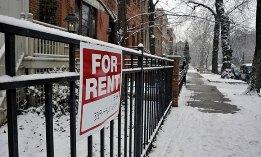 The federal government is reported to be close to a program to turn foreclosed homes owned by Fannie Mae, Freddie Mac and the Federal Housing Administration into rental properties, probably by selling them off in bulk to investors.
But, like many of the government's initiatives to combat the foreclosure crisis, this one may have significantly less impact than hoped.
An analysis by Goldman Sachs estimated that in the most optimistic scenario, such a program would boost housing prices 0.5% the first year and 1% the second year. But the impact would probably be less.
Post continues below
Loren Berlin of the Huffington Post listed these three obstacles that Goldman Sachs analysts see to an REO-rental program's success:
Some of the properties would remain vacant, because no one would want to rent them.

Turning these REOs into rentals wouldn't cut the overall number of homes on the market because banks would replace those homes with their own inventory for sale.

As many as half of Fannie and Freddie's homes aren't suitable for rental.
The Wall Street Journal's "Developments" blog has a Q&A on how such a program might work. One option would be a type of equity sharing, in which the private firms would handle the rentals but Fannie, Freddie and FHA would keep some kind of stake.
One obvious question is, if these properties are good rental properties, why haven't investors bought them already?
Some, of course, have not been offered for sale. Investors who can afford to pay cash are scooping up properties they deem to be a good rentals in good locations.
Large investors have expressed interest in programs that would allow them to buy up foreclosed homes in bulk, with the idea being that they need a larger number of rentals to make putting together the rental apparatus worth the trouble. But they can't get loans for bulk buys, Shanthi Bharatwaj points out at The Street.
It's possible the investors would be offered favorable loan terms from Fannie and Freddie, which would facilitate home purchases. In other words, not only would big investors get a chance to buy up REO properties in bulk, they might get government help to do so. John Carney at CNBC's NetNet sees potential problems ahead:
To put it another way, in the name of supporting home prices, the Obama administration will likely put in place a system under which investors make private profits while the taxpayers subsidize the risk.
 What do you think? Would an REO-to-rentals program help the housing market?
FIND YOUR DREAM HOME OR APARTMENT
msn real estate is social
WHAT'S YOUR HOME WORTH?
HOME IMPROVEMENT PROFESSIONALS
more on msn real estate