New program provides loans for home-energy improvements
The federal government is backing a program to help homeowners improve efficiency. In some cases, other programs or a home-equity loan might be a better move.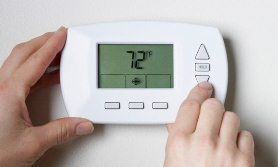 As bills for gas, electric and other heating fuels grew this winter, you might have found yourself wondering: Is there anything I can do to cut my heating costs?
In many cases, the answer is yes. Insulation is usually the energy-saving improvement that provides the biggest bang for the buck, but new windows and doors, new furnaces, caulking and other home modifications can also save energy and money.
The problem has been coming up with the money to pay for the initial improvements.
The Department of Housing and Urban Development recently rolled out a pilot program to back loans of up to $25,000 for homeowners to make energy improvements.
The PowerSaver program has lined up 18 participating lenders. It appears the program will only be available in some cities, but those cities don't seem to have been identified yet.
Post continues below
This is a separate program from "green" mortgage programs that let you fold the cost of improvements into your mortgage when you buy a house.
To take advantage of the program, a homeowner must have a credit score of at least 660 and some equity in the home. The program allows homeowners to tap up to 100% of their equity to take out loans for up to 20 years, with interest rates of 5% to 7 %.
Those with a significant amount of home equity might do better with a second mortgage or a home-equity line of credit, which is likely to offer a better interest rate.
A good place to start your research into home energy improvements is the federal government's Energy Star website, where you can find not only advice but links to appliance rebates and programs run by cities, counties and utilities that can help you improve your home. Some of those program provide free money for energy-saving measures.
You can also get a $500 federal tax credit for energy improvements made this year.
FIND YOUR DREAM HOME OR APARTMENT
msn real estate is social
WHAT'S YOUR HOME WORTH?
HOME IMPROVEMENT PROFESSIONALS
more on msn real estate