'Jersey Shore' house renters: We feel like celebrities
People of all ages pay $2,500 a night to sleep where Snooki and the gang do their reality TV show. 'It's like you are buying 15 minutes of fame,' one says.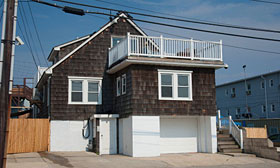 When it comes time to share stories about your summer vacation accommodations, few will be able to top those who rented the house where the MTV reality show "Jersey Shore" is filmed.
"It was basically the closest thing we'll ever come to being a celebrity," Joe Ambrosini, 33, said to The Asbury Park (N.J.) Press. Ambrosini, of Philadelphia, rented the house for a night with seven friends. "Whenever we went out on the deck or did anything, right away cameras were flashing and people were saying 'Hey, I think it's one of them.'
"We all have said that it was probably the best night of the summer," Ambrosini said. "It's like you are buying 15 minutes of fame."
The house rents for $2,500 a night, though rates are negotiable for parties and multinight stays. It has six bedrooms and three baths. We think the house could use a visit from HGTV's "Design on a Dime" team, but you can see photos of it here. People have also posted photos of themselves inside or in front of the house on its Facebook page.
What kind of people rent the "Jersey Shore" house? All kinds, said Michael Loundy, the real-estate agent who handles the rentals.
Post continues below
"We have really been surprised at the ages of the people that want to rent the house," Loundy, a broker at Seaside Realty, said to the paper.
Kristen Gisondi, 29, of Hamburg, N.J., rented the house for her bachelorette party in June. "That was like my top thing. That's what I wanted to do for my bachelorette party, just party at the 'Jersey Shore' house," she told The Asbury Park Press.
Jennifer Bauer of Tom's River, N.J., got a night in the house for her 40th birthday. Perhaps mindful of the carryings-on during the show, she brought her own sheets and slept on top of the covers.
"It was just really cool being able to sleep in the house, in the same bedrooms where the cast stayed, sitting at the table where they eat," she told the newspaper. "I just felt like I was on the show."
FIND YOUR DREAM HOME OR APARTMENT
msn real estate is social
WHAT'S YOUR HOME WORTH?
HOME IMPROVEMENT PROFESSIONALS
more on msn real estate