Listing of the Week: An homage to Jefferson
Architectural historian and his wife, both of whom worked at Monticello, built a retirement home in Virginia drawn from Jeffersonian principles.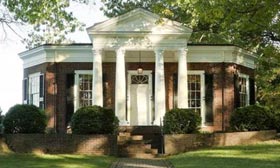 Back in the 1920s, architect Fiske Kimball got the job of overseeing the renovation of Thomas Jefferson's estate, Monticello.
He and his wife, Marie, who was Monticello's first curator, decided to build their own homage to Jeffersonian architecture and commissioned a home that would be known as Shack Mountain, named for the Shackelford family that had once owned the property on the outskirts of Charlottesville, Va. The home was completed in 1937.
Surrounded by 100 acres of woodland, with a commanding mountain view, the home is offered for sale to the public for the first time in 58 years. The asking price is $3.25 million. You can see photos here.
Post continues below
The house is on the National Register of Historic Places and is a National Historic Landmark. Despite its pedigree, the home has languished on the market for nearly two years. It originally was listed at $4.495 million.
The home has 2,803 square feet, with four bedrooms and three baths, plus a basement, two-car garage and in-ground pool.
Like Jefferson, Kimball believed in the octagon shape, which is reflected in the home. This is how current owners Jane and W. Bedford Moore III, who bought the home after the Kimballs' deaths, described the home in their application to the historic register in 1976:
Among Kimball's many achievements, Shack Mountain stands out as the most personal expression of his taste and ideas. Above all, it reflects his love for the simple charm and dignity of Jeffersonian Classicism, a love achieved through his meticulous study of Jefferson's architecture early in his career. Kimball even went about creating Shack Mountain in much the same manner as Jefferson did with Monticello. He sought a site that would afford commanding views of the rolling Albemarle countryside, selecting the end of a low mountain northwest of Charlottesville. Like Jefferson, he served as his own client (a happy situation for any architect) and evolved a design for the house that would both harmonize and contrast with its natural setting.
The Kimballs built Shack Mountain as their retirement home, but both Fiske and Marie Kimball died in 1955, as their retirement was just beginning. The Moores, who bought the home, lived in it the rest of their lives. W. Bedford Moore III, a university professor, died in 1995 and Jane Moore died in 2010. The home is being sold by her estate.
The Moores wrote in their application:
Shack Mountain is a pure example of Jeffersonian Classicism, so carefully detailed that it might easily be mistaken as a work by Jefferson himself. Although he was sympathetic with modern artistic expression, he (Kimball) was convinced that a local idiom should be maintained for the sake of an area's identity. Shack Mountain is, therefore, an amalgam of features he admired in Jefferson's oeuvre, interpreted in an amazingly convincing manner.

That is a surprisingly small home considering the price.  Obviously the land and setting contribute a lot as does its historical significance.  However for me it just doesn't make sense to own and live in what amounts to a liability as is proven by the length of time this house has been on the market.   Very expensive homes always seem to be difficult to sell since you are aiming at a very limited market.  As I see it they are nothing more than gauche displays of ego.  I like Mr. Warren Buffet's perspective.  He still lives in a very modest home and it serves him quite well.
Are you sure you want to delete this comment?
FIND YOUR DREAM HOME OR APARTMENT
msn real estate is social
WHAT'S YOUR HOME WORTH?
HOME IMPROVEMENT PROFESSIONALS
from our partners