Home made of old railroad ties for sale for $409,950
The salvaged material has been used for construction since pioneer days.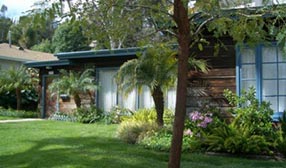 When you look for a house in suburbia, you don't expect to find one made of railroad ties, with a log-cabin vibe.
But that's what you'll get with one house currently for sale in Woodland Hills, Calif. (Realtor.com listing), in the San Fernando Valley area north of downtown Los Angeles. The rustic-looking home features a lot of wood, but it does appear to have been updated with plenty of modern amenities.
The house was built in 1949, which might seem long past the era of railroad-tie construction. But Mother Earth News has a story online from 1971 about a couple who built a 2,200-square-foot home with railroad ties they got free as well as other salvaged materials.
This wasn't the only California house built in the 1940s with railroad ties. A couple bought a bank repo house last year for $65,000. Unfortunately, when summer came they realized from the smell that the ties had been treated with the preservative creosote, which is no longer recommended for residential use, and they were considering demolishing the house.
It's certainly an issue to explore in a home inspection, though the chemical does dissipate over time, and not all railroad ties were treated with that preservative.
The Woodland Hills house is being offered for $409,950, after a price reduction. It has 1,332 square feet and three-quarters of a bath, according to the real-estate listing, which means a shower but no tub, plus updated plumbing and electric, skylights and a stone fireplace.
Railroad ties have been used in home construction since pioneer days, and you can still order salvaged railroad ties today. A company called Rail Yard Studios in Tennessee makes furniture of the old ties, but they note that the railroad ties they use were never treated with creosote.
FIND YOUR DREAM HOME OR APARTMENT
msn real estate is social
WHAT'S YOUR HOME WORTH?
HOME IMPROVEMENT PROFESSIONALS
more on msn real estate