Home sales fall with inventory
The lack of homes for sale, particularly in lower price ranges, is keeping some buyers out of the market and raising the median price.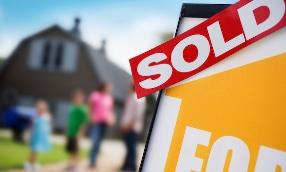 The number of existing homes sold in June fell 5.4% from the previous month, perhaps reflecting the fact that in some areas, would-be purchasers can't find homes to buy.
Nationwide, the number of homes on the market is down about 24.4% from a year ago, and inventory is down even further in some areas. That presents a challenge to buyers who would like to take advantage of record-low interest rates. The average rate on a 30-year fixed-rate loan fell to 3.53% this week, the lowest rate in the history of long-term mortgages.
The number of home sold in June, the lowest number in nine months, was 4.5% above the number sold in June 2011, the National Association of Realtors reported. The 4.37 million homes that would be sold this year if sales continue at that pace are still well below the 5.5 million to 6 million sold in a healthy market.
Post continues below
The median sale price in June was $184,900, up 7.9% over last year. That could reflect a larger number of expensive homes in the statistics. While the total number of homes for sale nationwide is 2.39 million — a 6.6-month supply, considered close to a balanced market — the homes for sale aren't necessarily where the buyers are.
"Buyer traffic has virtually doubled from last fall, while seller traffic has risen only modestly," NAR President Moe Veissi, of Veissi & Associates in Miami, said in a news release. "The very favorable market conditions are helping to unleash a pent-up demand, which is why housing supplies have tightened and are supporting growth in home prices."
Distressed properties accounted for 25% of sales, the same as in May but down from 30% in June 2011, reflecting the fact that fewer foreclosed homes are coming up for sale. Whether that is a blip or a trend is still a major question. All-cash sales accounted for 29% of transactions, the same percentage as in June 2011.
The decrease in inventory is a necessary step on the road to market recovery, said Jed Kolko, chief economist and head of analytics at the real-estate firm Trulia.
"As prices start to rise, buyers get impatient but sellers want to hold off," he said in an email. "Longer-term, rising prices will encourage new construction and lift homeowners above water, both of which will bring more homes onto the market and increase inventory. But inventory has to shrink first before it expands."

Get real, folks!  For every 100 repossessed homes banks have on the market and people are buying, there are another 200 homes behind them that the banks are holding off the market to keep the market from flooding and drowning.
We're not anywhere close to being near out of the water and probably won't see recovery until 2025 and certainly not with OBUMA as our leader.
Are you sure you want to delete this comment?
About Teresa Mears
Teresa Mears is a veteran journalist who has been interested in houses since her father took her to tax auctions to carry the cash at age 10. A former editor of The Miami Herald's Home & Design section, she lives in South Florida where, in addition to writing about real estate, she publishes Miami on the Cheap to help her neighbors adjust to the loss of 60% of their property value.
msn real estate is social
FIND YOUR DREAM HOME OR APARTMENT
WHAT'S YOUR HOME WORTH?
HOME IMPROVEMENT PROFESSIONALS
from our partners