How to make your home nearly chemical-free
With these tips, you can greet spring with far fewer volatile organic compounds — or potentially dangerous, gaseous chemicals — around the house.
Last week, that groundhog in Pennsylvania predicted an early spring for 2011. For our friends in Chicago and its vicinity, it was yet another reminder that yes, that deep dish of snow on the ground and the salted-car-gunk slush in the streets may now be permanent parts of the landscape.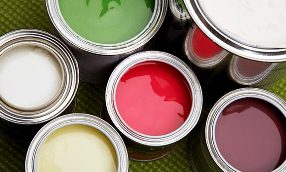 For the rest of us, Punxsutawney Phil's shadow aversion means warmer weather is coming — and with it, spring cleaning and the rekindling of many household projects. Perhaps this is the year you upgrade your living-room walls from butterscotch to honeysuckle.
Better yet: Perhaps this the year your spring home projects use fewer volatile organic compounds, potentially unhealthy chemicals emitted as gases from certain solids and liquids.
As U.S. News and World Report notes, there are a few quick ways to reduce your VOC emissions indoors, especially if someone in your household is prone to allergies. Here's how to start.
Post continues below video
First, it helps to recognize that even though they're "volatile," VOCs are everywhere — or as the Environmental Protection Agency puts it, "They have become essential ingredients in many products and materials." The EPA started regulating VOC emissions outdoors to cut down on ozone and smog. Indoors, VOC concentration can be two to five times higher, the EPA says, and as much as 1,000 times greater during activities such as applying or stripping paint.
Why we care: VOC exposure can cause eye, nose and throat irritation, as well as nausea, dizziness, kidney and liver damage and, potentially, cancer, the EPA says. It can be a concern for everyone, but especially for folks who have particularly adverse reactions to new carpet, nail polish and household cleaners. All are VOC-emission culprits.
The biggest emitter after new cars, however, is paint. Manufacturers are hip to this, however, and low- and no-VOC paints are available at most home-improvement stores. The New York Times recently recommended using these types for windowless rooms, in particular.
Real Simple also has compiled a list of the best no-VOC paints, with an emphasis on cool colors for kids' rooms. Ever thought you'd paint your home in milk protein or egg collagen? You may be surprised.
As with all so-called "green" products, shopping for low-VOC paint does take a discerning eye. A paint may be certified as low-VOC, but that certification may be for outdoor use, not indoors. From the EPA:
VOC labels and certification programs may not properly assess all of the VOCs emitted from the product, including some chemical compounds that may be relevant for indoor air quality. This is especially true of most wet products, such as paints or adhesives that may be labeled as "low-VOC" or "zero VOC."
Other household items that may emit a significant amount of VOCs include:
Cleaning agents: California, for example, has regulated VOC concentration in cleaning products. Looking for an alternative for cleaning your bathroom? U.S. News recommends simple baking soda and vinegar.
New carpet: That "new carpet smell" is chemicals. U.S. News recommends having your carpet installer air out your carpet for a day or two before putting it in your home.
Cans of half-used paint, wood preservatives and solvents: Hint: If you're not using it, dispose of it. Many communities offer special collection periods for these materials. (Bing:Find a waste-collection program near you) 
Mothballs
Dry-cleaned clothes
Plastic shower curtains
Seems like a lot of self-regulation to employ before spring rolls around? Fret not: Punxsutawney Phil also predicted that the Pittsburgh Steelers would win the Super Bowl.
Are you planning on painting, renovating or redecorating your home this spring? Share your ideas and tips here or on Facebook.
— Tony Stasiek is a producer/editor at MSN Real Estate. He's the former editor of two leading mortgage-industry magazines and has worked as a newspaper editor and reporter.
FIND YOUR DREAM HOME OR APARTMENT
msn real estate is social
WHAT'S YOUR HOME WORTH?
HOME IMPROVEMENT PROFESSIONALS
more on msn real estate