Can't move? Maybe you should remodel
Resigned to staying in their current homes, owners are looking at ways to make their abodes more what they want. Replacing windows and doors are among the projects with the best return.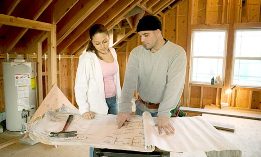 Homeowners who can't buy the homes they want are taking steps to create them, adding bedrooms and baths within existing footprints and remodeling kitchens.
While remodeling fervor is not at the fever pitch it was in the go-go days of the real-estate point, the pace is picking up.
"I feel like people are starting to say, 'Well, we're not going to move any time soon because, if we do, we're going to get 30% less than the house is worth. Why don't we do something in the kitchen or bathroom for our own enjoyment, since we're not going anywhere real soon?'" Joe McKinstry, president of Joseph McKinstry Construction Co. in Seattle, said to syndicated columnist Kenneth R. Harney. McKinstry said inquiries about remodeling projected have nearly tripled in the past year.
Post continues below
The National Association of Home Builders reported that its remodeling index hit a five-year high in January. The number of workers employed in residential remodeling was up 5.8% in December over the number a year earlier.
The projects that were found to provide the greatest return on investment in the most recent Cost Vs. Value survey by Remodeling Magazine were creating a bedroom in the attic, adding a deck, doing a minor kitchen remodel and replacing siding, windows and doors.
"The trends we've seen in the last two years reflect the need-to-do versus want-to-do projects, possibly because money is tighter and many were postponed," Sal Alfano, Remodeling's editorial director, said to Barbara Ballinger of CTW Features.
Duo Dickinson, an architect, published "Staying Put" last year with advice for families who are resigned to staying in their homes. His website includes advice on remodeling projects. He writes:
Families now have to focus on the homes they have rather than assume a lifelong leapfrog up a never-ending path of escalating home values. The newly imposed long-term commitment to our homes is closer to the historic norm than the distorted housing markets of recent years. Families are rediscovering the traditional tether to home sweet home as a specific fixed place rather than a movable stage set for our belongings.

LOL - how about being satisfied with what you already have?  Unless it is broken - leave it alone and put that money in CDs.  Even at the reduced rates of today - many can add as much $8,000 to $14,000 to their yearly income.  Not with very small amounts of money - but those $10,000 to $14,000 remodeling jobs can add up to $100,000 real quick - and - that much can add up over a few years to a lot of extra savings.  While that nice kitchen or bathroom you paid all that money for - will just deteriorate over time.
Are you sure you want to delete this comment?
FIND YOUR DREAM HOME OR APARTMENT
msn real estate is social
WHAT'S YOUR HOME WORTH?
HOME IMPROVEMENT PROFESSIONALS
more on msn real estate