New federal loan-servicing rules proposed
The Consumer Financial Protection Bureau says its proposals would eliminate the surprises and runarounds that borrowers experience today.
The federal Consumer Financial Protection Bureau has proposed new rules for mortgage servicers that it says will eliminate surprises and runarounds. Yes, we've heard this before. No, it hasn't happened yet.
The foreclosure crisis revealed numerous problems with how the companies that collect homeowners' mortgage payments do business. Consumers have complained of problems ranging from lost paperwork to unresponsiveness to outright fraud, including a process known as "robo-signing."
Post continues below
"The inadequate performance of many mortgage servicers has helped widen the misery for many Americans," Richard Cordray, director of the consumer agency, said in announcing the proposed rules. "Right now, consumers often struggle to get critical information about their mortgage loans. Many have a hard time correcting errors. They often do not know about options to avoid foreclosure. And when they are trying to keep their homes and find options that make sense, they often get little help from their servicers. … Right now, people have too little protection under federal law if their mortgage servicer surprises them with costly fees or gives them the runaround."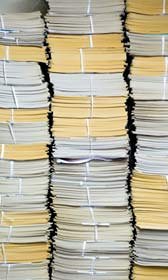 Consumers get no choice in which company services their mortgage. That decision is made by the lender. If you get bad service, you can't switch.
The bureau is seeking public comment through Oct. 9 on the proposed rules, which it first announced in April. Final rules will go into effect early next year.
Among the proposed new rules:
Mortgage statements would have to clearly state the amount due and how past payments have been applied.

Borrowers would have to be notified starting six months in advance when interest rates were scheduled to change.

Payments would have to be credited the day they are received.

Servicers would have to review alternatives to foreclosure with delinquent borrowers.
And, our personal favorite: "Servicers must have reasonable policies to ensure that when borrowers provide documents and information the servicers can find and use them." Borrowers seeking loan modifications have
complained
for years that servicers regularly lose the documents they send in, forcing them to send in the same paperwork numerous times.
Will these new rules really improve the process? Ben Hallman at The Huffington Pot is skeptical. He writes:
But there is reason to question whether servicers would follow the new rules, and whether regulators would enforce them. The mortgage industry has made promises before -- in deals reached with the Office of the Comptroller of the Currency and other federal agencies last year and as a condition of the $25 billion settlement with 49 states and the federal government six months ago.
The first set of new servicing standards were mostly ignored by the industry, housing advocates said. Early returns on compliance with the attorneys general settlement are not encouraging, they added.
About Teresa Mears
Teresa Mears is a veteran journalist who has been interested in houses since her father took her to tax auctions to carry the cash at age 10. A former editor of The Miami Herald's Home & Design section, she lives in South Florida where, in addition to writing about real estate, she publishes Miami on the Cheap to help her neighbors adjust to the loss of 60% of their property value.
msn real estate is social
FIND YOUR DREAM HOME OR APARTMENT
WHAT'S YOUR HOME WORTH?
HOME IMPROVEMENT PROFESSIONALS
from our partners