Zombie-proof condos are sold out
Former missile silo in rural Kansas offered eight units for $1 million to $2 million, with everything you need to survive for years after a disaster.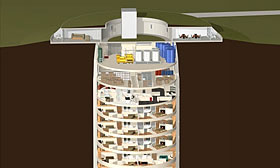 With all the flesh-eating in the news lately, you may once again be worried about the zombie apocalypse.
We're sorry to say you have missed your chance at a zombie-proof condo. The eight units at a former missile silo in Concordia, Kan., are all sold out. The underground units cost $1 million for a half-floor unit of about 900 square feet and $2 million for a full-floor unit of 1,820 square feet.
Those are big prices for Concordia, where homes are listed from $18,000 to $385,000. The site is in rural Kansas about 220 miles northwest of Kansas City, Mo.
Post continues below
The developer did not market his homes as zombie-proof, but as "survival condos" for extended off-grid living in case of worldwide economic collapse or natural disaster.
The condos don't just come with the usual amenities, such as pool, Jazuccis and high-end stainless steel appliances. They also come with a five-year supply of freeze-dried food, and the community includes a remotely powered vehicle with a range of 100 miles, three power-generation sources, a water treatment system, a weather station, the ability to grow fruits and vegetables hydroponically and raise fish, plus guns and ammunition.
If you couldn't get a zombie-proof condo, you could consider commissioning construction of a zombie-proof house like this one in Poland.
Or perhaps you can make do with a personal bunker. These do protect against tornadoes — and doesn't personal bunker sound much better than storm cellar? We're not sure if they would provide adequate protection in case of a zombie apocalypse, but you could certainly try.
According to Mother Earth News, the Survival Condo complex is one of the 10 best places to survive the regular apocalypse.
Doomsday shelters are popular these days, said Matt Mogk, head of the Zombie Research Society, to U.S. News' The Home Front.
"These things are totally selling like hotcakes," he said. "Zombies are synonymous with the end of the world. That's why they're so popular right now, because we're all worried about them. We're seeing them in the news every day."
Are you sure you want to delete this comment?
About Teresa Mears
Teresa Mears is a veteran journalist who has been interested in houses since her father took her to tax auctions to carry the cash at age 10. A former editor of The Miami Herald's Home & Design section, she lives in South Florida where, in addition to writing about real estate, she publishes Miami on the Cheap to help her neighbors adjust to the loss of 60% of their property value.
msn real estate is social
FIND YOUR DREAM HOME OR APARTMENT
WHAT'S YOUR HOME WORTH?
HOME IMPROVEMENT PROFESSIONALS
from our partners