Listing of the Week: 'Good Will Hunting' slept here
Unusual house rented by Matt Damon and Ben Affleck while they were writing their hit screenplay is offered for $779,000. The 'French cum Nordic' abode needs some work.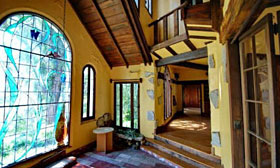 I'm always drawn to writers' houses. For one thing, they're usually less ostentatious than movie stars' homes.
Today's Listing of the Week is where Matt Damon and Ben Affleck wrote the Academy Award-winning screenplay for "Good Will Hunting." The house, in Los Angeles' Eagle Rock neighborhood, is listed for $779,000, down from $1.35 million in early 2010.
Eagle Rock is in the eastern part of Los Angeles. It's where the ordinary people live. Damon and Affleck were still young, struggling actors when they rented the four-bedroom, two-bath house in the early 1990s.
Post continues below

The house is unusual. The listing describes it as a "Hansel-and-Gretel-inspired​ Medieval Storybook Style house." According to the listing, it's on Eagle Rock's best street and has panoramic views, which you can see in the photos.
The two-story "French cum Nordic" house, with Viking influences, has 2,187 square feet. We saw some references to a detached guest cottage but it is not mentioned in the listing. The house has lots of nice original detail, such as wood floors, beamed ceilings, arched windows, stonework and at least one mural.
The home, called Ma Castle, was built in 1923 for Albert and Constance Braasch (we found at least four spellings of the name and couldn't verify any of them) with the help of architect Jean L. Egasse.
The home is apparently a fixer-upper.
A little chatter on a neighborhood bulletin board in 2009 provides some more detail, from someone who had seen the inside of the house:
"I went to an open house maybe two years ago.  The interior seemed like a Disney set, very unique and interesting, like a little village inside. Storybook in style. It had a general rundown vibe like it hadn't been maintained. ... I do remember seeing some murals in the dining room.  I don't know if there were more in years prior.  The second floor seemed to be sagging a bit. The stained glass living room window is simply astonishing.  The views incredible. … It would take a special buyer with very deep pockets to renovate these two buildings properly…
The house has been on and off the market since 2006, and the owner is looking for offers.
We don't know exactly when Damon and Affleck lived there, but they won the Oscar for the screenplay in 1997, so it was sometime in the years before that. Lindsay at I Am Not a Stalker has a few details about the writing of the screenplay.
FIND YOUR DREAM HOME OR APARTMENT
msn real estate is social
WHAT'S YOUR HOME WORTH?
HOME IMPROVEMENT PROFESSIONALS
from our partners