Downsizing in retirement may not save money
Conventional wisdom is that moving into a smaller home will cost less. But that's not always the case. It pays to crunch the numbers before you make any decisions.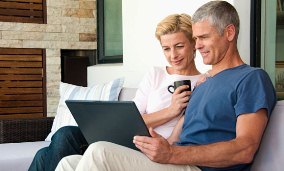 The conventional wisdom says you can save money by downsizing to a smaller home in retirement.
That may not be true, Anne Tergesen writes in The Wall Street Journal. Sometimes downsizing may end up costing more.
"Don't make any broad assumptions that downsizing is going to save your retirement," Jeff Bogue, a certified financial planner in Wells, Maine, told The WSJ. "It may help your finances, but I've seen plenty of people who find that it doesn't pan out as they had thought."
Post continues below
One of the most painful aspects of the real estate bust, for those near retirement, was that a major asset they had hoped to sell – their home – lost considerable value, more than 50% in some of the hardest-hit cities. That means the downsizing calculation may not be nearly as profitable as they had thought.
Most retirees who downsize stay in the same general area. That means that many of their daily expenses stay the same. A retirement community that provides maintenance and recreation facilities may even end up costing more.
One piece of retirement advice has been that to truly downsize you should move to a part of the country where it's cheaper to live – but making a mistake can be costly.
Joanne Abrahamian moved from New Jersey to Kanab, Utah, in 2008, then decided that the town was too remote and she missed the seasons. But the home that she bought for $295,000 is now worth only $195,000, The WSJ reported.
You may also find that a smaller home doesn't suit your lifestyle as well as you thought it would. My aunt, who sold her three-bedroom family home and moved into an apartment after her children left home and her husband died, found that her place wasn't large enough for the entertaining she had more time for in retirement. She ended up buying another three-bedroom home, behind her son's home, at age 70 and is still there at 86.
A smaller home may also not be practical if your adult children need to move back in or if you need room for visiting children and grandchildren who come from afar and stay overnight.
If you do plan to downsize, do the math and make sure it's really going to cost less – or that it's going to give you the lifestyle you want at a cost you can still afford. Consider the cost of moving. Don't buy in a new city until you have rented there for at least a year. Visiting on vacation doesn't count.
Downsizing in retirement does still deliver a financial boost to some. WSJ reader Shirley Summers wrote:
Oh, please, I could barely get through the article. My husband and I sold our 3,000-square-foot home two years ago by finding someone who could take over the mortgage. We had enjoyed living there, had made lots of improvements but it was too big, too much of a burden for just the two of us to take care of after the children left home. We bought a 1,200-square-foot fixer-upper, totally gutted it and changed the floor plan to include only (horrors) ONE bedroom and ONE bathroom. The kids know where the hotels are in town. Every time I find something of theirs I take it to them. "Here this is yours. Take care of it. :) "I don't regret it one bit. We have more time, and more money to do other things. We also have lots less to clean, no grass (our other house had an acre and a half of lawn to cut and water) and much cheaper utilities.
FIND YOUR DREAM HOME OR APARTMENT
msn real estate is social
WHAT'S YOUR HOME WORTH?
HOME IMPROVEMENT PROFESSIONALS
more on msn real estate