Neighbors fight over 'revenge hedge'
A homeowner whose request to build a barn was denied because of neighbors' objections has planted a 10-foot hedge in retaliation, they say.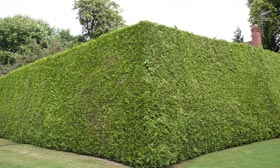 In the Hamptons, people take hedges seriously.
Last year, the Southampton Village Board unanimously passed a law that included jail time for scofflaws who don't trim their hedges by July 31 every year.
Now, a prominent resident is in trouble in nearby Bridgehampton over planting a "revenge hedge," which neighbors claim he planted to block their view after they objected to his plan to build a barn.
Post continues below  
Howard Lutnick, CEO of Cantor Fitzgerald, a global financial firm that lost more than 600 employees in the Sept. 11, 2001, attacks, owns a 40-acre property in Bridgehampton. He applied for permission to build a barn, saying he wanted to plant an orchard and grapevines and start a personal winery, according to The New York Post. His neighbors objected, saying he really wanted to store his car collection.
"Please do not destroy what is left of this beautiful, protected land by allowing for the construction of some overdone monstrosity with questionable purpose,"' one neighbor, Robert Rosenthal, beseeched town officials, according to The Post.
A proposal to build a smaller barn, or even two small barns, was also met with objections. Lutnick's appeal of the rejection by the town of Southampton -- of which the Village of Southampton is a part -- is pending in court.
In the meantime, Lutnick planted a 10-foot-high privet hedge, which neighbors say cuts off their view of a field and an orchard. (No word on whether it is well-trimmed.)
The town agreed, saying that the hedge is illegal and has to come down.
"This is definitely the revenge hedge," neighbor Beate Moore told The Post. "He blocked everybody's view."
FIND YOUR DREAM HOME OR APARTMENT
msn real estate is social
WHAT'S YOUR HOME WORTH?
HOME IMPROVEMENT PROFESSIONALS
more on msn real estate