Vintage trailer becomes sleek 158-square-foot home
California architect remodels 1978 Airstream into live-work space with the environment in mind.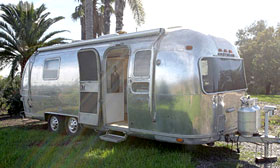 We write often about the joys -- and the challenges -- people find living in small spaces.
But 158 square feet is really small, especially when it includes the office.
California architect Matthew Hofmann is living and working in a vintage 25-foot Airstream trailer he redesigned and remodeled, with an emphasis on sustainable materials.
"I'm at a point in my life where I'm trying to live with less," Hofmann told Kent Griswold of the Tiny House Blog.
He detailed the eight-month renovation of the 1978 Airstream for the Los Angeles Times.
Hofmann replaced the dining-table top with bamboo. The dining area also doubles as office space, guest quarters and a "media lounge," where he watches movies on a 27-inch iMac computer, a considerable downsizing from his previous entertainment system. His printer is in a drawer under the seat.
The couch becomes a bed large enough for his 6-foot-4 frame. The bathroom has a 14-inch vessel sink and a shower covered in tiny tiles, with a custom redwood shower pan.
Post continues below video
Hofmann told the Tiny House Blog:
Two years ago I moved from a large house. Moving has a way of making you consider the value of possessions. I wondered, while looking at the massive truckload of things, how would I feel if this truck ran off a cliff and all was lost? My stuff was beginning to feel like a burden, like luggage. Things that I needed to take around with me wherever I went; a truckload-sized ball and chain.
He shared 12 reasons why he likes living in a small space, including less maintenance, less clutter and simplified entertainment technology.
Renovating vintage Airstream trailers is a popular pastime. We wrote previously about a California landscape architect who lives in a 1959 Airstream in addition to having an office on wheels. In Austin, Texas, you can rent a renovated Airstream for a night.
Sierra Airstreams has an entire gallery of remodeling projects, and Airstream owners trade advice on the Airstream Knowledge Sharing Forums.
Hofmann's home may be small but his view is large: His Airstream is parked on an oceanfront property in Montecito, Calif., which had been the site of a home that was destroyed by fire.
"Some friends and family don't understand why I've chosen this lifestyle, while others say I'm living their dream," he told the Times. "Life-changing events, such as a fire, remind people that they can do with much less and be content."

OK, this remodel guy...can't be for real is he? I mean, he tells this rather portly guy to get rid of his PITCHER water filter and replace it with a ...tiny squeeze bottle? And getting a new light because, LIGHT BULBS take up space? Really? Like how much space do they take up? Where is this guy's common sense? Oh, I know, it went out the window with the rather bizarre, sexy painting The guy NEEDS good drinking water, he shouldn't have to wait for it. The black cube things were a good idea. That and the stacking bowls.

Are you sure you want to delete this comment?
FIND YOUR DREAM HOME OR APARTMENT
msn real estate is social
WHAT'S YOUR HOME WORTH?
HOME IMPROVEMENT PROFESSIONALS
more on msn real estate