Chelsea Clinton buys $10.5 million apartment
The former president's daughter and her husband signed a contract for a full-floor unit in a condo conversion in New York City's Flatiron District.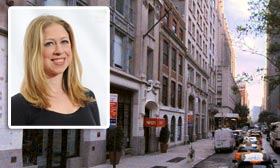 Chelsea Clinton and her husband, Marc Mezvinsky, have contracted to buy a new apartment in the Flatiron District of New York City, which had just been listed for $10.5 million.
The 4,967-square-foot condo unit has four bedrooms and six baths, plus a half bath, laundry room and media room. The enormous master suite has two baths and two dressing rooms, and the living area is open to the kitchen.
The apartment is one of only four in a new development called The Whitman, which was converted from  a 1924-era showroom owned by the plumbers union. Each apartment takes up an entire floor, with all the rooms coming off a long hallway that runs the length of the apartment. You can see photos and a floor plan here.
Post continues below
Even though the building has only four units, it is a full-service building, with a doorman and a gym, according to the listing. Condo fees are $4,342 a month, and the monthly real-estate taxes are $7,913.
Clinton, who is studying for a doctorate in international relations and working as a special correspondent for NBC, and her husband, who is co-founder of a hedge fund, already live in the neighborhood, a source told The New York Post, which is how they found the apartment. "It's great for them, because it is in a hot neighborhood and it is very private. There aren't hundreds of neighbors, and there is great security," the source told The Post.
The building overlooks Madison Square Park, and the first floor will be retail space. Clinton and Mezvinsky signed a contract for the fourth-floor unit.
Clinton's parents, former President Bill Clinton and former Secretary of State Hillary Rodham Clinton, came by to see the apartment last weekend. The tour was supposed to be private, but the building was filled with construction workers. The Clintons posed for photos with the workers, The New York Daily News reports.
FIND YOUR DREAM HOME OR APARTMENT
msn real estate is social
WHAT'S YOUR HOME WORTH?
HOME IMPROVEMENT PROFESSIONALS