'Home within home' expands living space
A Mobile Dwelling Cube provides flexible, cozy, private space in a live/work loft. The module, winner of an AIA award, can be moved whenever the resident wants.
We always like to celebrate small spaces, perhaps because of the creativity that so many designers show when they create them.
The American Institute of Architects recently recognized high-quality designs for small projects — not necessarily small spaces — with its
Small Project Awards
. Eleven projects were honored in three categories.
One of the projects honored was a
Mobile Dwelling Cube,
a module that essentially creates an apartment within an apartment for the live/work loft of an Oakland, Calif., feng shui practitioner.
Post continues below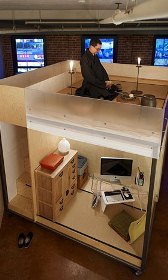 Liu Ming teaches classes in his 1,100-square-foot apartment. The space felt enormous when he was there alone, but it wasn't big enough to accommodate his students unless he moved his heavy furniture out of the way each time. He commissioned architect Toshi Kasai, a former student and co-founder of the firm SpaceFlavor, to create a solution.
The answer was the Mobile Dwelling Cube.
The 8-by-8-by-8-foot cube includes a sleeping space, a study space and a meditation/tea ceremony space, which is on top. It's on wheels, so it can be used anywhere in the apartment, and Liu reorients it based on the Chinese lunar calendar. You can see a floor plan on how the cube fits into one side of the loft here. It cost about $20,000 to build.
Liu "can freely move the cube and arrange his loft however he wants while preserving his crucial personal spaces," Kasai said in a news release. "It is nice to see the cube rotated in a new spot every time I visit."
The cube was designed of materials that could fit through a 3-foot-wide door, and it can be dismantled and reassembled in another home if Liu moves.
Plus, Liu says he likes the cozy feeling the small living spaces provide in the larger space.
"In feng shui, we talk about the harmony in the place that you live in," Liu told The New York Times. "The cube evolved out of wanting cozy with the option of keeping a big, open space at the same time. And we added wheels for feng shui purposes. Now that it is portable, I can spin it on an axis, I can point my head and point my desk in different compass directions for different projects. If I am writing something and feel blocked, I can get up and move the room."
Are you sure you want to delete this comment?
FIND YOUR DREAM HOME OR APARTMENT
msn real estate is social
WHAT'S YOUR HOME WORTH?
HOME IMPROVEMENT PROFESSIONALS
more on msn real estate