Drought makes painted lawns more popular
How can you keep your lawn green during a drought? Rather than spend money on water, some homeowners and businesses are choosing to paint their grass green.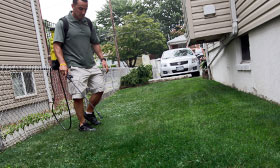 This summer's drought has brought new popularity to the latest in lawn-care trends.
Do you want the greenest grass in the neighborhood? Paint it.
Unless you live in a place with abundant rainfall, you may have discovered that achieving that verdant, lush, green look in a traditional lawn of grass is not easy. You have to fertilize, and you have to water — a lot.
Post continues below
In this time of heightened environmental consciousness, we are learning that using precious water to maintain lawns is not the best choice for the environment — or for your pocketbook.
In Staten Island, N.Y., Ronnie and Terri LoPrimo paid $125 to have an organic green dye sprayed over their 830-square-foot lawn. "It looks just like a spring lawn, the way it looks after a rain," Terri LoPrimo told The Associated Press. "It's really gorgeous."
Contractor Joe Perazzo said he had painted about 20 lawns this summer and was booked for the next week, making this his best year ever.
Lawn painting is more commonly used for athletic fields and golf courses, though arid regions of the West have been painting home lawns for a while. The foreclosure crisis has accelerated the trend.
"Usually it's people who don't feel like messing with their yard, or it's a rental or a foreclosure or a sale — something where before everything gets going they want it to look nice," Brian Howland of Arizona Lawn Painting, based in Phoenix, told The AP.
If a painted lawn is not quite natural enough for you, you could consider a landscape that uses real plants but requires less water. Among your options are more hardscape, such as pavers, xeriscaping and using native plants and other vegetation that does not need as much water as grass does.
FIND YOUR DREAM HOME OR APARTMENT
msn real estate is social
WHAT'S YOUR HOME WORTH?
HOME IMPROVEMENT PROFESSIONALS
more on msn real estate