In America's most expensive town, a trailer is $599,000
Aspen, Colo., has suffered less than other U.S. cities from the real-estate meltdown, and the median home price has risen to $4.6 million.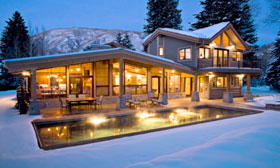 A few towns in the United States have not felt the doom and gloom of real-estate prices in free fall.
One of those is Aspen, Colo., a ski town that The Wall Street Journal informs us is the most expensive town in America.
How expensive? The cheapest single-family home listed for sale is $599,000, and it's a trailer. At least it's a double-wide.
The median home price in Aspen is $4.6 million, the highest in the nation, and the average home price has increased from $5.4 million in 2006 to $6 million in 2010, the WSJ reports. Here's Trulia's overview of Aspen real estate, which shows prices dropping from 2008 to 2009 and then starting to rise again in 2010. Condo prices are lower, but it's hard to tell from the listings which units are time-shares and which are places where people live full-time.
Here is how the WSJ explains what has protected Aspen from the real-estate bust:
Analysts point to numerous reasons why Aspen has held up so well. A small market where only 13% of land is able to be developed because of zoning laws and the mountainous landscape, it never suffered the overdevelopment now plaguing other areas. Aspen's distance from a major city and spotty air service help to keep away day tourists.
The availability of jobs for young people -- the story doesn't say where they can afford to live -- and purchases by foreign buyers also have buoyed the market.
Post continues below video
Here are some of the luxury properties the WSJ reported as sold or on the market in the last year:
A 13,000-square-foot estate with a sandy beach, ponds, a 35-foot-wall of disappearing glass, mountain views and a media room with leather seats sold for $24.5 million.

A 15,000-square-foot stone mansion with a gym, panoramic views, caretaker's apartment and an eight-stall horse stable sold for $31.5 million.

A 90-acre estate known as Jigsaw Ranch just went on the market for $48.5 million. The property includes a 21,000-square-foot house that took nearly 15 years to build, an 11,000-square-foot house, a guest house and a log cabin gatehouse.
The WSJ has a slide show featuring some of those properties.
Aspen hasn't been entirely insulated from the nation's real-estate woes. The number of homes sold in 2010 was only about half the number sold in 2006, and the city has experienced some foreclosures and price reductions.
FIND YOUR DREAM HOME OR APARTMENT
msn real estate is social
WHAT'S YOUR HOME WORTH?
HOME IMPROVEMENT PROFESSIONALS