Home-sale contracts highest in 2.5 years
But shrinking inventory puts a damper on purchase contracts in the West and could continue to hold sales back nationwide.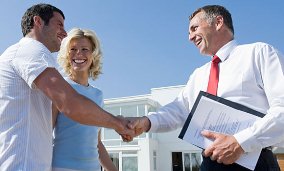 The number of Americans signing contracts to buy homes rose again in January, reaching the highest level since April 2010, when a tax credit was in effect.
The Pending Home Sales Index, calculated by the National Association of Realtors, rose 4.5% from December to January and was 9.5% above January 2012. 
Whether home sales will continue to increase this year depends on whether more homes come to market.
Post continues below
"Favorable affordability conditions and job growth have unleashed a pent-up demand," Lawrence Yun, chief economist for the NAR, said in a news release. "Most areas are drawing down housing inventory, which has shifted the supply/demand balance to sellers in much of the country. It's also why we're experiencing the strongest price growth in more than seven years."
The Pending Home Sales Index measures contracts to buy existing homes, not sales, but it is an indicator of how the sales picture could look in a few months.
The number of homes for sale has shrunk considerably, making many cities into sellers markets. With 27.5% of mortgages still underwater, many homeowners who might sell are trapped in their current home.
The West, where the shortage of homes for sale is particularly acute, saw 1.5% fewer contracts signed in January 2013 than in January 2012.
Yun had previously predicted that 5.1 million homes would be sold in 2013, with a gain of 5.5% to 6% in the median home price. He is now prediction 5 million homes will be sold, but that prices will rise 7%.
"Over the near term, rising contract activity means higher home sales, but total sales for the year are expected to rise less than in 2012, while home prices are projected to rise more strongly because of inventory shortages," Yun said in the news release.
Looking at signed contracts by region compared with January 2012:
Northeast: up 10.5%.

Midwest: up 17.7%.

South: up 11.3%.

West: down 1.5%.
I might be wrong because I am not too educated but  heres my take. The real estate market was so depressed that it was beneficial to get a very good  REI on buying residential real estate which brought inot the market a lot of investors who took up a majority of the slack in sales.  With that investor demand  in play the banks have felt alot stronger carrying the balance of properties in their balance sheets untill they are unloaded at a pace that dose not precipitate any further fall in prices and as a matter of fact helps them regulate the supply unloaded onto the market which limits supply and helps them raise their return on their REO. Thats all well and good and has to happen to create a more healthy real estate enviroment but investors are investors. What will happen when an investment vehicle comes to the attention of the investor that brings a greater  REI than what they are sitting in now. I would add I assume this relationship has to be nurtured by the Fed also so that real estate can be inflated to stop any more homes from going underwater and exposing the banks in a negative way. But hey I didnt graduate High School so what the hell do I know  . LOL    Good luck out there ;God bless and no matter where  you go; there you are.

I guarantee shizznit will hit the fan on these house contracts.  The economy is abismal now with 7.9% unemployment that has been riding this way for almost 4 years now; taxes for all Americans going up; gas, food, clothing, and necessity product prices skyrocketing during the last 4 years; and Obamacare to take full force and effect in 2014 which I am sure those buying houses now have not taken into consideration.  It also was finally revealed recently that more and more Americans are maxing out their credit cards.  I am having a flashback to the 90's when Clinton was president and this same thing took place, and guess what the kaboom hit the fan and President Bush had to deal with the clean up.  Oh, Chinese residents buying up all the homes in California is not helping me here in the middle of the country.
Are you sure you want to delete this comment?
FIND YOUR DREAM HOME OR APARTMENT
msn real estate is social
WHAT'S YOUR HOME WORTH?
HOME IMPROVEMENT PROFESSIONALS
more on msn real estate