Listing of the Week: A Beverly Hills classic with history
1930s traditional home was designed by Paul Williams, a pioneer African-American architect to the stars who helped shape L.A. It was home to a publishing magnate for nearly 50 years.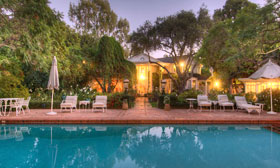 This Listing of the Week carries a lot of history.
It was designed in the late 1930s by Paul Revere Williams, the first African-American member of the American Institute of Architects, who designed many Hollywood stars' homes as well as commercial buildings during a distinguished career that lasted from the 1920s to the 1970s.
The Georgian Colonial home in Beverly Hills was commissioned in 1937 by Harry Joe  Brown, who produced such films as "Captain Blood" and "Moon Over Miami," and his wife, actress Sally Eilers, with an expected cost of $40,000. The couple divorced and sold the house in 1943. It became home in 1949 to film producer Nunnally Johnson, who wrote the screenplay to "The Grapes of Wrath" and "The Man in the Gray Flannel Suit." 
The 7,735-square-foot home is on a large and lush 1.23-acre lot on one of the most popular streets in Beverly Hills. Asking price is $15.995 million.
The home has been owned for the past 50 years by the Peterson family and is being sold by their estate. Robert Petersen had a long career in publishing, founding Motor Trend, Hot Rod, Teen and Tiger Beat, among other magazines. The family's two young sons died in a plane crash in 1975. Peterson and his wife, Margie, lived in the home from 1963 until they died, he in 2007 and she in 2011.
Petersen used to race motorcycles with actor Steve McQueen and founded the Petersen Automotive Museum in Los Angeles in homage to the car culture he helped promote in the United States.
Williams was the architect to the stars in old Hollywood. He designed homes for Frank Sinatra, Barbara Stanwyck, Lucille Ball and Desi Arnaz, ZaSu Pitts, Bert Lahr, Tyrone Power, Johnny Weissmuller, Lon Chaney and Bill "Bojangles" Robinson, among others. He also was a friend of actor Danny Thomas and designed the first building of St. Jude's Children's Research Hospital in Memphis, Tenn. Among his many commercial works was the iconic Sak's Fifth Avenue building in Hollywood.
Not all his work was for the wealthy. In the late 1930s, he joined African-American designer Hilyard Robinson to design Langston Terrace, the first federally funded housing project in Washington, D.C. He also designed subdivisions of modest homes, including Carver Manor in Los Angeles.
The Petersen home is a classic Williams design: a spiral staircase in the foyer set off by a two-story window, with wings of the home spreading out in various directions. The home has seven bedrooms and seven baths, plus a wine room, pool, spa and two garages – one with a tree growing through the middle.
The lot is large for Beverly Hills and the grounds are particularly lovely, said listing agents Jade Mills and Chris Livingston, who used to play with the Peterson boys and visit the house when he was a child. Margie Petersen loved roses and gardens. She refused to allow any trees to be taken down, which is why the second garage had to be built around a tree.
"Every room looks out to a beautiful garden," said Mills, who is with Coldwell Banker in Beverly Hills.
The house retains many of its original details, she said. "It's just like walking back into time or seeing an old Hollywood movie."
FIND YOUR DREAM HOME OR APARTMENT
msn real estate is social
WHAT'S YOUR HOME WORTH?
HOME IMPROVEMENT PROFESSIONALS
more on msn real estate