1.8 million homes at risk from storm surge
Report finds that two-thirds of residential structures in 10 hurricane-prone metro areas aren't in designated flood-hazard zones.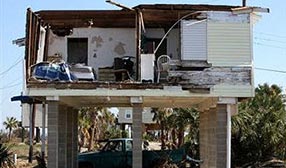 More than 1.8 million homes are at risk of being flooded by storm surge after a hurricane, about two-thirds of them outside designated flood-hazard zones, according to a new report by the real-estate data firm CoreLogic.
The report updates a report CoreLogic did last year, changing the methodology, and attempts to put a dollar value on residential storm damage if a major hurricane hit a densely populated area. The report looks at potential residential property in 10 at-risk metro areas, both in flood areas designated by the Federal Emergency Management Agency and in other areas where a storm surge could wreak havoc.
"The important thing to remember is that though individual homeowners can greatly reduce hurricane wind damage with improvements to buildings and structural design, they are often powerless to mitigate the impact of storm surge and resulting saltwater flooding," Howard Botts, executive vice president and director of database development for CoreLogic Spatial Solutions, said in a news release.
"It's a common misconception for homeowners to think that if they live outside of a FEMA flood zone they are safe from hurricane-driven storm-surge flooding, when in reality their property is vulnerable to the most destructive natural flooding catastrophes that can occur alongside a tropical storm," he said.
Homeowners insurance doesn't cover damage from flooding. Most people who live in FEMA-designated flood zones buy a separate flood insurance policy — required if you have a mortgage. The report says homeowners who aren't in flood zones but whose properties are at risk in case of storm surge should consider flood insurance.
In Virginia Beach, Va., for example, 87.4% of properties at risk of storm surge were not in a flood zone. In Long Island, 78% of at-risk properties weren't in a flood hazard area.
Post continues below
This is how CoreLogic explains storm surge:
Storm surge is triggered primarily by winds associated with cyclonic storms. The high winds and low pressure created by a hurricane cause water to amass inside the storm, gaining energy as the hurricane moves toward the coast and releasing as a powerful surge over land when the storm moves on shore. Storm surges can cause extensive property damage as the seawater is pushed inland, breaking through structures and carrying with it dangerous debris.
The best example of this in recent times is Hurricane Katrina, which inundated New Orleans in 2005. The report notes that flood-control improvements in New Orleans in the last six years have lowered the risk there.
The report used computer modeling to evaluate the 10 metro areas considered at the highest risk of significant damage from storm surge, based on the probability of a hurricane, vulnerability to storm surge and population density. The modeling considered the worst-case storm scenario.
These are the areas and the estimates of potential damage to residential property:
Long Island, N.Y.: $99 billion.

Miami-Dade, Fla.: $44.9 billion.

Virginia Beach: $44.6 billion.

New Orleans: $39 billion.

Tampa, Fla.: $27 billion.

Houston: $20 billion.

Jacksonville, Fla.: $19.6 billion.

Charleston, S.C.: $17.7 billion.

Corpus Christi, Texas: $4.7 billion.

Mobile, Ala: $3 billion
About Teresa Mears
Teresa Mears is a veteran journalist who has been interested in houses since her father took her to tax auctions to carry the cash at age 10. A former editor of The Miami Herald's Home & Design section, she lives in South Florida where, in addition to writing about real estate, she publishes Miami on the Cheap to help her neighbors adjust to the loss of 60% of their property value.
msn real estate is social
FIND YOUR DREAM HOME OR APARTMENT
WHAT'S YOUR HOME WORTH?
HOME IMPROVEMENT PROFESSIONALS
from our partners