Brooklyn home with creepy past challenges even strong stomachs
Grisly murder makes house in desirable neighborhood a tough sell.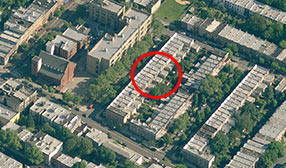 In a city with a relative shortage of good housing, a death in a home normally "barely elicits a shrug," reports
The New York Times
.
But a century-old, brick home for sale on coveted 
Howard Place
is putting even tough New York stomachs to the test, reporter Christine Haughney writes.
The home is in a neighborhood more known for kids' birthday parties than murders.
Residents remember fondly the filming of the 1997 movie "As Good as It Gets."
But after little response, the home's asking price was lowered a second time to $1.29 million in late March.
One agent told the Times he found a couple who were willing to pay $700,000 for the place and who then planned to "burn sage all around" to get rid of any bad vibes.

For those who can deal with those "vibes," some homes with a grisly past can
be a bargain
.
In 2005, Chris Butler found a place he loved in Summit County, Ohio, but soon learned it was the childhood home of serial murderer Jeffrey Dahmer -- and he had committed his first murder there as a teen.
After he got over the initial shock, the musician decided, "I can't not do this. It fits my alternative lifestyle."
Murder is just one of the many stigmas than can hurt a home's value. Sellers should make sure they are aware of
local disclosure laws
so they know what to reveal. California and New York have the most demanding ones.
On Howard Place, the neighbors hope the home will find a fresh start.
"We are looking forward to a happy end," the home's next-door neighbor Dr. David Coun told the Times.
About Teresa Mears
Teresa Mears is a veteran journalist who has been interested in houses since her father took her to tax auctions to carry the cash at age 10. A former editor of The Miami Herald's Home & Design section, she lives in South Florida where, in addition to writing about real estate, she publishes Miami on the Cheap to help her neighbors adjust to the loss of 60% of their property value.
msn real estate is social
FIND YOUR DREAM HOME OR APARTMENT
WHAT'S YOUR HOME WORTH?
HOME IMPROVEMENT PROFESSIONALS
from our partners