Spruce up your garden with 2011's new plants
New varieties of plants are created all the time. Among this year's favorites is a petunia in black, a rare color in the plant world.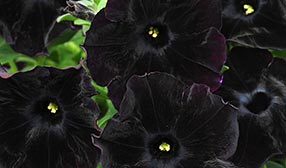 We think of plants as being eternal: roses, lilacs, petunias, geraniums. Often, when we plan a garden, we expect to use the flowers and shrubs we have known all our lives.
But just as we see new clothing designs every year, we are presented with new plants as well. The world of horticulture is forever busy, developing hybrids with better characteristics or a new look. You just have to know where to go for the fashion show.
Of course, where you live will dictate what sorts of plants will grow best, as will the microclimates in each part of your yard. Whatever your climate, there are bound to be new offerings worth considering.
Post continues below
Here are a few of the new plants out this year that will grow in much of the country:
The Chicago Tribune has a photo gallery of 15 new plants for 2011. You can see more of Ziegler's favorites here and the AAS winners here. Check out the ornamental kale with the pink center.
About Teresa Mears
Teresa Mears is a veteran journalist who has been interested in houses since her father took her to tax auctions to carry the cash at age 10. A former editor of The Miami Herald's Home & Design section, she lives in South Florida where, in addition to writing about real estate, she publishes Miami on the Cheap to help her neighbors adjust to the loss of 60% of their property value.
msn real estate is social
FIND YOUR DREAM HOME OR APARTMENT
WHAT'S YOUR HOME WORTH?
HOME IMPROVEMENT PROFESSIONALS
from our partners