Gardening on the cheap: 5 tips for fall
So the weather's cooler. There still may be things to plant — and garden bargains to pursue.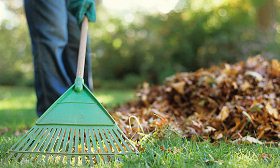 Late October isn't exactly your garden's proudest hour. That's often fine, as it whittles down your weekend yard tasks to raking leaves off it and discovering that the smell near that now-barren plant does in fact come from a decomposing critter.
But even before winter-prep season kicks into full swing, your garden may benefit from your extra attention. Acting now may even save you a few extra bucks.
The Daily Green's "The Green Cheapskate" blog recently shared advice on how to stretch garden season while stretching your hard-earned dollar. In fact, author Jeff Yeager calls this the "best time of year for all kinds of garden activities."
Here's a look at his five tips.
Post continues below
Another tip: This may be a good time to trim those trees. Winter storms are on the horizon — yeah, we're on to you, La Niña. Ice, wind and snow may soon turn today's innocuous branches into tomorrow's insurance disasters. Just think of how busy — and pricey — tree-removal agencies will be in the next few months.
If you're trimming trees near power lines, call your local utility first. It could take care of the job for you.
All caught up on these tasks? Check out our gardening checklists for October and November. And share your own fall gardening tips with us on Facebook and Twitter.
— Tony Stasiek is a producer/editor at MSN Real Estate.
About Teresa Mears
Teresa Mears is a veteran journalist who has been interested in houses since her father took her to tax auctions to carry the cash at age 10. A former editor of The Miami Herald's Home & Design section, she lives in South Florida where, in addition to writing about real estate, she publishes Miami on the Cheap to help her neighbors adjust to the loss of 60% of their property value.
msn real estate is social
FIND YOUR DREAM HOME OR APARTMENT
WHAT'S YOUR HOME WORTH?
HOME IMPROVEMENT PROFESSIONALS
from our partners