New Year's resolutions for home sellers
Is selling your home on your 2011 to-do list? Start planning now with these home-selling resolutions.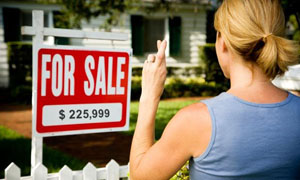 If you want to sell your home this coming year, you have your work cut out for you. It is, of course, a buyers market, and there are plenty of homes to compete with yours for the attention of house hunters. But you can use the few remaining days of 2010 for some home-selling prep work to give yourself – and your home – an edge. 

MarketWatch's Amy Hoak shares some New Year's resolutions for home sellers, the first of which is to list early. 
Louis Cammarosano, general manager of HomeGain.com, a real-estate website, reminds sellers that some potential buyers will start looking in the winter, so they can be moved in to their new place before school starts in the fall.
"If you hit the ground running and you're a fresh listing that has done everything right, you've got the best shot," Cammarosano said.

Before you list your home, though, be sure to do a reality check when it comes to price. Your memories and attachments to your abode don't play into what a potential buyer will be willing to pay.
Tara-Nicholle Nelson, consumer educator for real-estate website Trulia.com, says overpricing a home is especially dangerous now because there is so much competing inventory. 
So how do you make sure the price is right? Check out some comparable homes that are for sale or that have recently sold in your area to see how they are priced, and ask a few real-estate agents what they think. 
Another tip from Nelson: If there are a lot of short sales and foreclosures in your area, but your home isn't one, be sure to include that information in your listing. Some buyers don't want to deal with the hassle and uncertainty of a short sale or bank-owned property.
It should come as no surprise that one big step in getting your home sold is making sure it's ready for buyers to walk through. Milwaukee area real-estate agent Beth Jaworski advises sellers to get their home as close to a Pottery Barn catalog as possible. (Get ideas with these Pottery Barn images.)
Potential buyers don't want to see the spilled milk in your refrigerator or the stacks of bills on the desk in the hallway. Get rid of the clutter, paint the walls in neutral colors and stage your home. And remember, less stuff makes rooms and closets look bigger.
Once you get potential buyers into your home, they're probably going to have questions. How much do the utilities usually cost? When was the water heater replaced? How new is the roof? Are the neighbors friendly? Where do you get a decent pizza around here?
You should have all the answers. The more information you can give, the better. You could even consider including a floor plan with your home listing so that buyers know the layout before they arrive.
Lastly, be flexible. Keep your home show-ready at all times, and be willing to accommodate an odd request or two. The buyer is in the driver's seat, so if he wants to come look at the place at 7 a.m. on his way to work or makes the deal contingent on you throwing in the Ikea bookcase, let him have his way.
As for you homeowners who don't plan to sell, why don't you resolve to complete that
home-improvement project
you've been putting off -- and increase your home's value at the same time? Renters, you can save some cash by finding
dirt-cheap rent
or
finding a roommate
to help pay the bills. 
Leah L. Culler is a Seattle-based freelance journalist and longtime renter.  She believes that keeping up with the rental market means you've got to keep on moving: She's lived in nine rentals in five years.  She hopes to someday own her own home – and stay there awhile.
FIND YOUR DREAM HOME OR APARTMENT
msn real estate is social
WHAT'S YOUR HOME WORTH?
HOME IMPROVEMENT PROFESSIONALS
more on msn real estate