Congress members sleep in offices to save money on rent
Up to 50 representatives have elected not to rent apartments in Washington. Some say housing is too expensive, and others want to make a statement.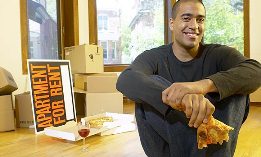 They haven't joined the "The Rent Is Too Damn High Party," but at least 33 members of Congress are having a nightly pajama party, deciding they'd rather sleep in their offices than pay rent for an apartment in Washington, D.C.
Like everything in Washington, this has turned into a political brouhaha. Rep. Hansen Clarke, D-Mich., even appeared on the "Today" show in his pajamas.
A few Congress members have slept in their offices for years, but the number could be as high as 50 since a number of Tea Party Republicans were elected in November.
Freshman Rep. Todd Rokita, R-Ind., said he decided to sleep in his office after seeing a 600-square-foot studio for $2,000 a month. "I'm not doing this as a political stunt," he told The Wall Street Journal. "I'm doing this because I'm a cheap b------."
Rent in Washington is expensive, but we've known plenty of journalists who have managed to rent apartments on significantly lower salaries than the $174,000 a year that Congress members make. Use "Capitol Hill" as your search term on the Washington Craigslist, and you'll find a variety of places listed starting at about $1,200 a month.

The Congress members could also do what their young staffers in Washington do: get a roommate. If a bunch of them went in together, maybe they could even rent a McMansion.
Some Congress members say they're making a political statement by sleeping in their offices, even though it doesn't save taxpayers any money, because members of Congress have to pay for their own housing.
"I don't want to be comfortable in Washington because I need to get back to metro Detroit," Clarke told the WSJ shortly after his election. "Businesses are struggling right now. Families are struggling. I'm only in Washington to work."
The organization Citizens for Responsibility and Ethics has filed an official complaint with the Office of Congressional Ethics, arguing that the sleepover members of Congress are getting a tax break by getting free housing, plus they're making personal use of public resources. Since the offices don't have showers, the resident Congress members shower in the House gym.
The Wall Street Journal explains how the practice has waxed and waned in recent decades, with some House leaders opposing and some supporting the practice.
"House office buildings are not dorms or frat houses," said Melanie Sloan of Citizens for Responsibility and Ethics. "If members didn't want to find housing in Washington, they shouldn't have run for Congress in the first place."
And, she added: "Who wants to run into a member of Congress in need of a shower wandering the halls in sweats or a robe?"
FIND YOUR DREAM HOME OR APARTMENT
msn real estate is social
WHAT'S YOUR HOME WORTH?
HOME IMPROVEMENT PROFESSIONALS
more on msn real estate