Is housing near that elusive bottom?
The new Case-Shiller report finds that prices are still falling, but not quite as fast. But eight of 19 cities hit new lows in January, and prices nationwide are at 2003 levels.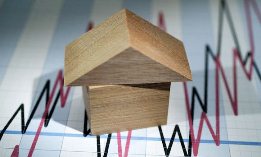 We have good news and bad news in the latest S&P/Case-Shiller Housing Market Index: Prices are still falling, but they're not falling quite as fast.
That may mean the market is approaching bottom.
The S&P/Case-Shiller Home Price Indices for January found that prices dropped in 16 of 19 cities from December, with Miami, Phoenix and Washington, D.C., the notable exceptions (there were no data for Charlotte, N.C., this month). Year over year, prices dropped in all the cities except Detroit, Phoenix and Denver.
Post continues below
Eight of the 19 markets hit new lows in January. Those were:
Atlanta
Chicago
Cleveland
Las Vegas
New York
Portland, Ore.
Seattle
Tampa, Fla.
But the year-over-year composite index of 20 cities was down only 3.8%, better than the 4.1% reported in December. That lower rate of decline indicates we may be inching toward the bottom.
The national indexes put prices back to where they were in early 2003, down 34.4% from the peak in 2006.
"Bottom line, the housing numbers seen over the past week have been mostly below expectations, pointing to a still-tough industry but one that isn't getting much worse, with signs of stabilization in some markets," Peter Boockvar of brokerage firm Miller Tabak told The Wall Street Journal's MarketBeat. "Prices will likely still fall, and purchase deals will still be held up by tight lending standards and strict appraisals, but generally speaking most of the damage has already been done."
The cities that reported the greatest decrease in prices year over year were Atlanta, 14.8%, Las Vegas, 9%, and Chicago, 6.6%. You can see the details in the Journal's interactive chart.
"Atlanta continues to stand out in terms of recent relative weakness," David  M. Blitzer, chairman of the Index Committee at S&P Indices, said in a news release. "It was down 2.1% over the month, and has fallen by a cumulative 19.7% over the last six months."
A number of analysts had predicted that 2012 would see the beginning of housing-market recovery. While that may be true in a few cities, economists have pulled back a bit on their projections for recovery, according to Zillow's March 2012 Home Price Expectations Survey.
Economists now expect home prices, as measured by Case-Shiller, to fall 0.7% this year. Back in December, they were predicting a fall of only 0.2% this year. But the economists continue to predict a turnaround next year.
"It's going to be tempting to look at home-price declines and see a still-faltering housing recovery, but that's just not the case," Stan Humphries, Zillow's chief economist, told The Associated Press. "The reality is that home prices and home sales will be moving" higher.
FIND YOUR DREAM HOME OR APARTMENT
msn real estate is social
WHAT'S YOUR HOME WORTH?
HOME IMPROVEMENT PROFESSIONALS
more on msn real estate