Home prices flattening, even falling in some areas
Listing prices are up 35% in Sacramento and down 10.7% in Peoria, a new report says. And the number of cities reporting higher prices is dropping.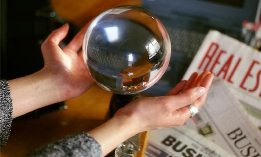 New data from Realtor.com points up the fragility of the housing-market recovery. The national median home listing price, after rising earlier this year, is back to last year's level.
That comes as the number of homes for sale continues to shrink, according to new data from Realtor.com. The median home price stands at $189,900, exactly where it was in November 2011.
"As 2012 comes to a close, there are signs that the housing market may have reached a crucial junction," the organization wrote in its latest trend data report.
Post continues below
"Flat list prices — a leading indicator of future house price trends — most likely signal a slowdown in the recent rate of house-price appreciation. At the same time, historically low inventories suggest that significant price concessions on the part of home sellers may be coming to an end," the report says. "How these potentially offsetting trends play out in the housing market will depend on a variety of factors, including potential buyers' optimism regarding the continued strength of the overall economy."
This is the latest in a string of reports to point up the difference in the health of the housing market in different cities. While the national median home price stayed flat between November 2011 and November 2012, the median list price rose as high as 35.29% in Sacramento, Calif., and fell as much as 10.72% in Peoria-Pekin, Ill.
"Patterns that have been observed throughout the year continued to run their course, as markets that were once the epicenter of the housing crisis continued to strengthen while markets in more industrialized parts of the Midwest and Northeast continued to fall behind," the report said.
The number of existing homes for sale was at the lowest point since early 2007, down 16.87% from a year ago and more than 45% below the number of homes for sale at the peak in September 2007.
The number of homes for sale is down in all but five of the 146 markets covered in the report. The number of homes for sale rose only in Shreveport, La. (14.16%); Philadelphia (6.94%); the Philadelphia metro area in New Jersey (1.84%); Cedar Rapids, Iowa (1.44%); and Reading, Pa. (0.14%). 
Despite the inventory decline, prices dropped in 46 cities, stayed about the same in 30 and rose in 70. "The number of markets experiencing year-over-year list price declines has increased steadily in recent months, underscoring the continued fragility of many housing markets," the report said.
The biggest increase in list prices was reported in:
Sacramento, Calif.: 35.29%

Santa Barbara-Santa Maria-Lompoc, Calif.: 29.62%

San Francisco: 22.88%

San Jose, Calif.: 21.91%

Phoenix-Mesa, Ariz.: 21.37%

Oakland, Calif.: 20.39%

Fresno, Calif.: 18.19%

Atlanta: 14.72%

Riverside-San Bernardino, Calif.: 13.31%

Punta, Gorda, Fla.: 13.13%
The biggest decrease in prices was reported in: 
Peoria-Pekin, Ill.: 10.72%

Toledo, Ohio: 9.09%

Fort Wayne, Ind.: 9.09%

Charleston, W.Va.: 8.53%

Reading, Pa.: 7.84%

Dayton-Springfield, Ohio: 7.18%

Chicago: 6.72%

Philadelphia, Pa.-N.J.: 6.56%

Jersey City, N.J.: 6.35%

Columbia, Mo.: 5.95%
FIND YOUR DREAM HOME OR APARTMENT
msn real estate is social
WHAT'S YOUR HOME WORTH?
HOME IMPROVEMENT PROFESSIONALS
more on msn real estate