Builders push 'Made in America' homes
Two builders who tried it say using more products made in the United States doesn't cost that much more -- and, more important, it creates jobs.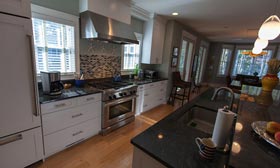 In the past couple of years, several builders have tried an experiment: Could they build a home made only of components made in the United States?
The answer turned to be "almost."
Encouraged by their experience, several builders and U.S.-based suppliers of building materials have joined to create a movement called We Build American, which was launched at last week's International Builders' Show in Las Vegas. Their goal is to encourage more "Made in America" homes. The advice applies to remodelers, too.
Post continues below
"This initiative is designed to spread the word that you can build homes with approximately 95% American-made materials and products, have a higher quality home, and maintain and create American jobs – all with little impact on overall building costs," Maggie Hardy Magerko, the owner of 84 Lumber, one of the companies participating in the campaign, said in a news release.
Builders in Montana and Delaware have already put the initiative into practice.
Anders Lewendal Construction in Bozeman, Mont., embarked on its The All-American Home campaign after a client requested a home built using as many local products as possible. That gave Lewendal and his son Jake an idea: Could you build a home entirely of U.S.-made materials?
They discovered that they could -- putting aside the debate over foreign-born labor -- and that the additional cost was negligible. Estimating that 75% of the products used in building a home were already made in America, the Lewendals began looking for ways to substitute U.S.-made products for foreign ones.
"The point is that little things can add up," Anders Lewendal told The New York Times last year. "I think we could solve this recession if everyone shifted just 5% of their purchases to U.S.-made products."
According to their website, the Boston Consulting Group determined that if every builder in the United States shifted 5% of construction spending from foreign to domestic products, it would create 220,000 American jobs.
In Delaware, Marnie Oursler heard about Lewendal's project and embarked on her own. She teamed up with 84 Lumber to build a home of about 95% of U.S. products in Bethany Beach, Del. She has five more under construction.
"When I was building in 2007, all the studs we used in our houses were stamped with American flags," she told The Wall Street Journal. "But homebuilding became such a price-conscious industry after the housing crash that people stopped asking where materials came from. All they wanted to know was, 'How much does it cost?'"
Her results were similar to Lewendal's: She calculated that the cost of the made-in-the-USA home was only about 1% more than it would have been if she had used foreign products.
Both she and Lewendal noted that the U.S-made nails cost considerably more than those made in China. But, Oursler noted, the additional cost added only $600 to the cost of the entire home. And both builders discovered that the U.S. nails, which cost about $5 more per box, don't jam the nail guns as much, saving on labor time.
What do you think? Should builders try harder to use U.S.-made materials in the homes they construct?
FIND YOUR DREAM HOME OR APARTMENT
msn real estate is social
WHAT'S YOUR HOME WORTH?
HOME IMPROVEMENT PROFESSIONALS
more on msn real estate