Homeowners could get $125,000 for foreclosure errors
Borrowers who are found to be the victim of improper servicing practices could get $1,000 to $125,000, and perhaps even get their home back.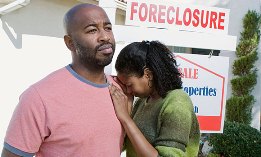 Borrowers who lost their homes to improper foreclosure could get up to $125,000 plus any lost equity if an independent review finds errors in their foreclosure cases.
So far, only about 194,000 of about 4.4 million eligible borrowers have asked to have their foreclosure cases reviewed under the terms of a settlement reached between federal regulators and 14 loan servicers last year.
The reviews will look at whether borrowers were unfairly foreclosed on, were improperly denied loan modifications or were the victim of other loan-servicing errors that caused them financial harm. Until last week, no one knew what compensation homeowners might receive if they were found to have been the victim of servicing errors.
Post continues below
A new chart lists potential compensation for borrowers under 13 different scenarios, noting that not all scenarios may be covered. In addition to receiving financial compensation ranging from $1,000 to $125,000, victims of wrongful foreclosures could get their home back if the home has not been sold to a third party.
Any borrower whose loan was in the foreclosure process during 2009 or 2010 is eligible to have his case reviewed. The reviews are free and are being done by independent consultants hired by the banks. You can see more details here.
Even if they accept the compensation, homeowners retain the right to sue their loan servicers. Consumer advocates praised that provision, but some say the process still has problems.
"Most fundamentally, they haven't released the instructions about what the independent consultants are supposed to be doing," Paul Leonard, director of the California office of the Center for Responsible Lending, told The San Francisco Chronicle. "And there hasn't been any information disclosed about what those reviews have found to date."
According to The Chronicle, only about 11,000 reviews have been completed, and the compensation for any borrowers deemed to have been the victim of improper servicing practices has yet to be determined.

This article does not state what company you can contact to have your foreclosure looked at by this group.  That information would be greatly helpful to those in need.  Articles like this only raise the hopes of the many thousands of people who suffered by the banks bad practices and gives them all false hope again.  Give the information needed for these people to seek help.  Not all people took out loans to big for them to handle, most have lost their jobs and need the help.

Linda68
I feel your pain we had analmost duplicate situation with Saxon, they claim that a payment was missed...we have proof it wasn't but they would not even talk to us nor were they willing to look at the proof. Now they have us in foreclosure and won't accept payments. And we went thru 18 mos. of their so call "modification" (that was the biggest load of crap I've ever seen) Still praying for a win when we get our day in court.

Just want to state that JP Morga Chase is also one of those that is doing all of this, i wanted to refinace my loan to lower my payment and they told me to skip 3 payments then apply for a remodifacation loan, so did that and that took six months to do and then said i did not qualify so i reapplied and then they told me that i did not make enough money to lower my payment, to reapply again and make trial payments for 3 months, made them for 4 months then they said no again, and tried telling me we never made the trail payments, but i had proof they took them straight from my bank.it has been nothing but the run-around for 2 years now, they just keep telling me to re-apply, mean while i am just getting further behind, they will not even except payments now and they are forclosing on me. they told us the payments we missed would be put at the back of the note, not so. they want it all now to keep my home. It is a way for them to keep all the thousands of dollars that the goverment has gave them to help people with remodifacation loans, hell why help them they got thousands from the goverment and your home to sell to. I am really sick over this, we built this home with our own hands and raised my 4 boys here. got about $65,000 equity I am going to loose

@ muttdog - it isn't even about people taking out more loan than they could afford.  That may have been the case when the market first tanked.  Now, these are people who have lost jobs, had hours cut at work, etc.  The game has changed.  It's about time these banks (who gladly accepted tax-payer TARP funds) to help homeowners retain their homes.
Are you sure you want to delete this comment?
About Teresa Mears
Teresa Mears is a veteran journalist who has been interested in houses since her father took her to tax auctions to carry the cash at age 10. A former editor of The Miami Herald's Home & Design section, she lives in South Florida where, in addition to writing about real estate, she publishes Miami on the Cheap to help her neighbors adjust to the loss of 60% of their property value.
msn real estate is social
FIND YOUR DREAM HOME OR APARTMENT
WHAT'S YOUR HOME WORTH?
HOME IMPROVEMENT PROFESSIONALS
from our partners