Listing of the Week: Frank Capra's California desert home
The retirement home of the director of the iconic film 'It's a Wonderful Life' is offered for $1.575 million. It's on a golf course near Palm Springs.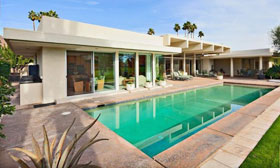 As you watch heartwarming holiday movies this season, you may wish you lived in some of those houses.
It will do you no good to lust after George and Mary Bailey's "drafty old house" from the 1946 film "It's a Wonderful Life." That house existed only on a stage set.
But a home once owned by the film's director, Frank Capra, just went on the market in La Quinta, Calif., for $1.575 million. It's nothing like the home of his fictional characters.
Post continues below
The low-slung, midcentury modern home looks more like something from "Mad Men." It was built in 1960 and designed by architect A. Quincy Jones (Jennifer Aniston bought a Jones designed home in the Los Angeles neighborhood of Bel Air for $21 million earlier this year.)
During a career spanning from 1937 to his death in 1979, Jones designed a number of institutional buildings in California, including the Annenberg School of Communications at the University of Southern California, where Jones was a professor and then dean of architecture.
He also designed many custom homes, including Sunnylands, the Annenberg estate in Rancho Mirage, Calif. He was also credited with improving the design and quality of California tract housing, including adding parks and greenbelts. Jones worked with many of the top modern architects of his time in California, including Paul Revere Williams, Joseph Eichler and Frederick Emmons.
The home where Capra lived during his retirement was built in 1960. The director owned the home from 1967 until his death there in 1991 at age 94.
The modern house has four bedrooms and five baths in 4,221 square feet. Its walls of windows look out over the golf course at the La Quinta Country Club, with the Santa Rosa Mountains visible in the distance.
Of course, there is a pool and patio overlooking the golf course as well. The kitchen has been remodeled, and it appears from the photos there have been other updates as well. The living room has a 14-foot beamed ceiling and a floor-to-ceiling fireplace, with lots of stonework.
The house last sold for $900,000 in April 2004. It was listed for sale in May 2011 at $1.550 million and has been taken on and off the market a few times since then.
Capra reportedly wrote "it's a Wonderful Life" while staying at the La Quinta Resort & Club, which celebrates the film each year. Did he really write the script there? The Press-Enterprise of Riverside did a little digging but was unable to reach a definitive conclusion.
FIND YOUR DREAM HOME OR APARTMENT
msn real estate is social
WHAT'S YOUR HOME WORTH?
HOME IMPROVEMENT PROFESSIONALS
from our partners