Best and worst housing markets
Cape Coral-Fort Myers, Fla., saw the greatest increase in fourth-quarter home prices from 2010 to 2011, while Boise, Idaho, suffered the greatest decline.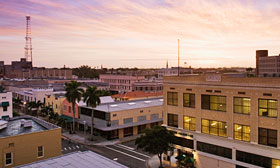 Trying to follow housing statistics these days may give you whiplash, as you see cities flip from best to worst and back again.
Some of the markets doing the best today are those that suffered the worst declines in median home prices after the bust. One reason they are doing better, by some measures, is that once home prices plummeted, homes that had once been out of reach were affordable and attractive to both locals and out-of-town investors. In many areas, declining inventory has also buoyed prices.
That is why we find that the Cape Coral-Fort Myers area on Florida's southwest coast leads the list of the 10 best housing markets for the last quarter of 2011, based on data from the National Association of Realtors.
Post continues below
Home prices in that area rose 25.58% from the last quarter of 2010 to the last quarter of 2011, the best performance in the nation. Of course, home prices in the Cape Coral-Fort Myers area fell nearly 60% from 2006 to 2010, so there was plenty of room for improvement.
Even real-estate agents are skeptical about the distinction, knowing that there is likely still a significant backlog of foreclosures and short sales still to come.
"Things may look good, but in the back of my mind, I know there's that backlog," Marc Joseph, owner of a residential brokerage in Cape Coral, told Bloomberg for a story on market recovery in states such as Florida, where foreclosures go through the courts and take more than two years, and states where it is a much quicker, nonjudicial process.
The areas with the largest increase in median single-family home prices from the last quarter of 2010 to the last quarter of 2011 were:
Cape Coral, Fort Myers, Fla: 25.58%.

Abilene, Texas: 15.99%.

Yakima, Wash.: 11.4%.

Kankakee-Bradley, Ill.: 10.01%.

Grand Rapids, Mich: 9.83%.

Palm

Bay-Melbourne-Titusv​ille,

Fla: 8.3%.

Waterloo-Cedar Rapids, Iowa: 6.4%.

Bismarck, N.D.: 5.3%.

South Bend-Mishawaka, Ind.: 4.3%.

Spartanburg, S.C.: 4.12%.
These were the markets that suffered the greatest decrease in home values from the fourth quarter of 2010 to the fourth quarter of 2011:
Boise-Nampa, Idaho: down 20.2%.

Binghamton, N.Y.: down 19.4%.

Allentown-Bethlehem-​Eastern,

Pa.-N.J.: down 17.8%.

Atlanta-Sandy Springs-Marietta, Ga.: down 17%.

Springfield, Mo.: down 15.6%.

Mobile, Ala.: down 15.8%.

Edison, N.J.: down 14.92%.

Rockford, Ill.: down 14.16%.

Milwaukee-Waukesha-W​est

Allis, Wis.: down 14.09%.

Trenton-Ewing, N.J.: down 13.84%.
FIND YOUR DREAM HOME OR APARTMENT
msn real estate is social
WHAT'S YOUR HOME WORTH?
HOME IMPROVEMENT PROFESSIONALS
more on msn real estate