A peek inside Ashton Kutcher's trailer
The new 'Two and a Half Men' star will have a 1,000-square-foot "mobile estate" with seven 60-inch TVs and a pop-up second floor.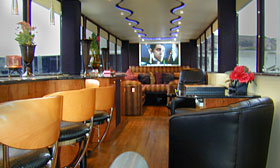 When you go to work every day, you're lucky if you get your own cubicle.
TV stars get a little more space.
Ashton Kutcher, who is joining the cast of the sitcom "Two and a Half Men," will spend his time away from the set in a 1,000-plus-square-fo​ot trailer with seven 60-inch plasma TVs. We're not sure what he is going to do with all those TVs.
For many of us, 1,000 square feet is the size of our homes, not our offices. Some people have decked out much smaller vintage Airstream trailers as homes. And then there's the guy who lives in the 78-square-foot apartment in Manhattan.
But they're not Ashton Kutcher, who is being paid more than $700,000 per episode to replace Charlie Sheen in the popular TV show. The rent on the trailer is $8,750 per week.
These rolling McMansions apparently are all the rage among the TV and movie crowd. Will Smith caused a stir when he used an even bigger trailer in Manhattan, where the trailer exceeds the size of many people's apartments.
Both of those trailers were provided by a company called Anderson Mobile Estates in California, which is planning to introduce a three-story trailer soon.
Post continues below
Kutcher is renting the "Baby Girl," which includes two bathrooms, a kitchen with granite countertops, conference space and a pop-up second floor. Smith rented "The Heat."
As for his less mobile real estate, Kutcher sold his bachelor pad, a contemporary Beverly Glen Craftsman home that he had his dad had expanded to 3,235 square feet, for $2.35 million in June.
He never lived in the house, because before the renovation was finished, he married Demi Moore. The two live in a contemporary 6,716-square-foot home in Beverly Hills, which they renovated together and which was photographed for Architectural Digest.
From his perspective, the trailer might not be that fancy.
About Teresa Mears
Teresa Mears is a veteran journalist who has been interested in houses since her father took her to tax auctions to carry the cash at age 10. A former editor of The Miami Herald's Home & Design section, she lives in South Florida where, in addition to writing about real estate, she publishes Miami on the Cheap to help her neighbors adjust to the loss of 60% of their property value.
msn real estate is social
FIND YOUR DREAM HOME OR APARTMENT
WHAT'S YOUR HOME WORTH?
HOME IMPROVEMENT PROFESSIONALS
from our partners