Number of improving markets is static
The number of cities where the real-estate picture is improving fell from 101 to 100. Phoenix was among 17 new cities on the list, while 18 cities dropped off.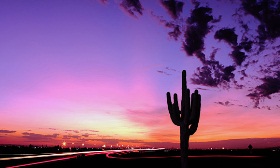 The number of cities where the real-estate market was deemed to be improving remained stable in May at 100, down one from last month and just one more than in March.
The report from the National Association of Home Builders was the latest set of statistics that showed that the real-estate market was not getting worse, but it was not getting better quickly, either.
The National Association of Home Builders/First American Improving Markets Index evaluates metro areas based on building permits, employment and home prices. To be considered an improving market, a city must have shown improvement in all three areas for at least six months.
Post continues below
The 100 improving markets include about 25% of U.S. metropolitan areas, but many of them are small.
"In places where employment is firming up along with demand for new homes, the main factors weighing down the housing market continue to be access to credit (for both builders and buyers) and the difficulty of obtaining accurate appraisals on new construction," NAHB Chairman Barry Rutenberg, a builder from Gainesville, Fla., said in a news release.
The largest city to join the list was Phoenix, which has also made a strong showing on other lists. Other new entrants were Pensacola, Fla.; Bend, Ore.; Lubbock, Texas; and Ann Arbor, Mich., plus 12 smaller cities.
Falling off the list were Dallas; Charlotte, N.C.; Louisville, Ky.; Minneapolis; Fargo, N.D.; Dayton, Ohio; and San Antonio, as well as 11 smaller cities. All the cities but one lost their places on the list because of falling prices. Merced, Calif., was dropped because of a decline in building permits.
"The overall number of markets on the IMI continued to plateau this month, with more than a quarter of all U.S. metros still showing signs of improvement," NAHB chief economist David Crowe said in a news release. "Many of these are relatively small markets in terms of their population and building volume, which is why their improvement is barely registering on the national scale as of yet. Moreover, we are seeing some shifting of markets on and off the list primarily due to small seasonal house price changes in areas that have had flat, stable prices rather than a boom-and-bust cycle."  
About Teresa Mears
Teresa Mears is a veteran journalist who has been interested in houses since her father took her to tax auctions to carry the cash at age 10. A former editor of The Miami Herald's Home & Design section, she lives in South Florida where, in addition to writing about real estate, she publishes Miami on the Cheap to help her neighbors adjust to the loss of 60% of their property value.
msn real estate is social
FIND YOUR DREAM HOME OR APARTMENT
WHAT'S YOUR HOME WORTH?
HOME IMPROVEMENT PROFESSIONALS
from our partners