Home sales rose 5.1% in March
Pending sales are below the number from last year, when buyers could get a tax credit. But analysts see some light at the end of the tunnel.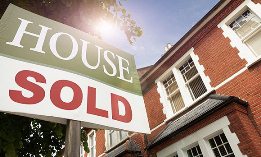 Pending home sales rose in March for the second consecutive month, suggesting the housing market might be stabilizing.
The number of people who signed contracts to buy existing homes rose 5.1% from February. The index of 94.1% was 11.4% below the 106.2 index in March 2010, when a homebuyer tax credit spurred sales. Actual closed sales rose 3.7% in March, with investors and all-cash deals playing a key role.
"Since reaching a cyclical bottom last June, pending home sales have posted an overall gain of 24% and demonstrate the market is recovering on its own," National Association of Realtors chief economist Lawrence Yun said in a news release. "The index means modest near-term gains in existing-home sales are likely, which would be even stronger if tight mortgage-lending criteria returned to normal, safe standards."
The data reflect contracts signed to buy homes, not closed sales. Yun noted last month that the NAR was seeing "a measurable level of contract cancellations" because of problems with appraisals. Tighter lending standards are also keeping some would-be buyers out of the market.
Post continues below
An index of 100 is considered to be a healthy market. That's equal to the average level of contract activity during 2001, the first year the NAR began keeping such data and also the first of five consecutive record years for home sales.
The picture was brightest in the South, where the housing index rose 10.3%, to 110.2, which is 10.5% below March 2010.  It rose 3.1% in the West, to 103.7, 4.1% below a year ago. In the Midwest, the index rose 3%, to 83.5, 16.6% below a year ago. The index fell 3.2% in the Northeast, to 63.4%, a level 18.4% below March 2010.
The latest report is encouraging, Barclays Capital economist Theresa Chen told Reuters. "Pending home sales have continued on an upward trend after the trough in June," she said. "We look for the housing market to recover further in the near term, albeit at a gradual pace."
Yun's prediction is similar: 5% to 10% growth in sales, with more sales of less expensive homes than high-priced homes.
"Based on the current uptrend with very favorable affordability conditions, rising apartment rents and ongoing job creation, existing-home sales should rise around 5% to 10% this year with sales growth of lower priced homes likely to outperform high-end homes," Yun said. "That means the price trend will reflect more homes sold in the lower price ranges."
About Teresa Mears
Teresa Mears is a veteran journalist who has been interested in houses since her father took her to tax auctions to carry the cash at age 10. A former editor of The Miami Herald's Home & Design section, she lives in South Florida where, in addition to writing about real estate, she publishes Miami on the Cheap to help her neighbors adjust to the loss of 60% of their property value.
msn real estate is social
FIND YOUR DREAM HOME OR APARTMENT
WHAT'S YOUR HOME WORTH?
HOME IMPROVEMENT PROFESSIONALS
from our partners