Home sales have best February in 5 years
Despite slipping from January's numbers, existing-home sales increased 8.8% from February 2011. Home prices also posted first annual gain since late 2010.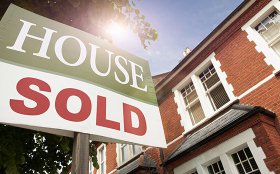 Maybe 2012 won't be quite so apocalyptic after all.
The National Association of Realtors today reported 4.59 million existing-home sales in February, down 0.9% from January's 4.63 million sales but up 8.8% from February 2011. Although February's seasonally adjusted volume was lower than Dow Jones economists had expected, according to The Wall Street Journal, it did mark the highest level for the typically chilly month in five years.
If you also add January's strong sales showing to the equation, the housing market is off to its fastest start since 2007.
Post continues below
Yesterday, the Commerce Department also announced that more building permits for new homes were issued in February than any month since October 2008.
Lawrence Yun, the NAR's chief economist, acknowledged that an unusually mild winter may have spurred more buyer activity to the market in the first two months of 2012. But as JPMorgan economist Daniel Silver noted in a MarketWatch article, the increase in demand may be sustainable, snow or no snow.
"The upward trend in the data began before the abnormal weather started, and we do not see a statistically significant relationship between deviations from normal temperatures and existing-home sales during winter months," Silver said in the article.
For the second straight month, Yun also cited "pent-up demand" from potential homebuyers finally translating into action. And for the first time since November 2010, the median sale price for an existing home showed a year-over-year increase, albeit a wee 0.3% boost from $156,100 in February 2011 to $156,600.
Inventory also increased from January to February, with 2.43 million unsold homes on the market, representing a 6.4-month supply. By comparison: In July 2007, the NAR reported 4.04 million unsold homes.
Investors comprised 23% of home purchasers in February, unchanged from January, while the share of cash sales increased from 31% in January to 33% in February. First-time buyers were involved in 32% of February's sales, down a tad from January's 33%.
Sales breakdown by region:
Midwest: Sales up 1% month to month and 13.3% year to year.

South: Sales up 0.6% month to month and 9.3% year to year.

West: Sales down 3.2% month to month, up 6.1% year to year.

Northeast: Sales down 3.3% month to month, up 5.5% year to year.
— Tony Stasiek is a producer/editor at MSN Real Estate.
FIND YOUR DREAM HOME OR APARTMENT
msn real estate is social
WHAT'S YOUR HOME WORTH?
HOME IMPROVEMENT PROFESSIONALS