Listing of the Week: 'Miracle in metal' in Seattle
Boxy 1970s home was turned into a unique Modernist retreat in the 1990s by prominent architect Tom Kundig. Now it's for sale for $1.8 million.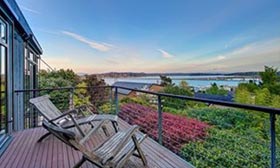 Back in 1998, a couple of retired high-tech executives presented Seattle architect Tom Kundig with a challenge: Turn their boxy 1970s home into something beautiful.
The result was a Modernist home with an industrial vibe, open to the elements and the view of Lake Washington. It is known as the Leschi Residence for its neighborhood. That home is now for sale, at an asking price of $1.8 million.
A 1999 news story about the renovation described the home as having 1,800 square feet, but the listing says it has 3,190 square feet with three bedrooms and four baths, suggesting that there may have been an addition at some point.
Post continues below
This is how Olson-Kundig Architects described the yearlong renovation:
The clients wanted a house to serve as a base of action for their travels and other pursuits. The design involved completely reworking the interior of an existing 1,800-square-foot home and opening it up to the exterior through decks and window walls while keeping the essential boxlike quality of the house intact. The house is simple and direct, eschewing doors and walls for a relatively open plan, and uses straightforward materials like raw steel, elm flooring and ash cabinetry. A raw-steel staircase and catwalk connect the levels and rooms of the house.
"People who hire me are also adventurers," Kundig told The Seattle Times in a 2008 interview. "You propose something like a 19-foot front door to them, and they say, 'Cool!' "
The radical renovation of the Leschi Residence involved exposing elements that are usually covered, such as concrete, structural steel and plumbing and electrical fixtures.
Commercial applications were used to expand the windows and openings, including a 14-by-5-foot pivoting glass door that swings out to the deck.
The listing describes the home as a "miracle in metal" with "dramatic two-story windows, sleek steel staircases and gorgeous wood accents" offering "spectacular light, stunning Rainier views and a timeless, loft-like aesthetic." It also has whole-house automation. You can see a video here.
The Leschi house last sold in 2010 for $1.64 million. It sold in 2005 for $1.87 million.
Kundig, the architect, has won numerous national awards. He is the author/subject of two books about his work, "Houses" and "Houses 2."
He shared his design philosophy with Seattle Met:
The home is primal, it's visceral, it's our primitive past, it carries all the baggage of our cultural life. It has to have prospect, the sense of being in the open; but also intimacy and protection. It has to encompass open and closed, hot and cold, fast and slow, light and dark, yin and yang. That's how we experience life, and that's how we should experience a house.

OK msn.com - you write an article and put it on the front page headline and then you fail to provide any photos of the subject other than a view off the balcony.  Huh??
Another poor attempt at a filler story.  If all you are doing now is highlighting other news desk's stories, you should say so.
Are you sure you want to delete this comment?
FIND YOUR DREAM HOME OR APARTMENT
msn real estate is social
WHAT'S YOUR HOME WORTH?
HOME IMPROVEMENT PROFESSIONALS
from our partners