Hamptons denizens are now bargain hunters
The stratospheric prices of the real-estate boom have not returned to this wealthy New York enclave, and you hear less about real estate at cocktail parties.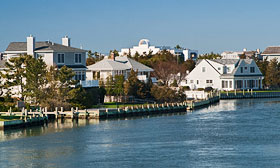 We read recently in The New York Times that it is now chic to score a real-estate bargain in the Hamptons, where prices reached into the stratosphere during the real-estate boom.
But unlike in New York City, where prices have continued to rise, prices have dropped in the Hamptons, where brokers say it is now a buyers market. The most expensive oceanfront sale in the Hamptons this year was a two-acre property that sold for $28.5 million in February. That contrasts with the boom times, when one resident turned down an offer for $70 million, The Times reports.
Post continues below
A four-acre oceanfront property that was listed for $35 million three years ago is now being offered at $19.5 million, still with no takers.
"The trophy sales aren't really happening any longer," Harald Grant, a broker at Sotheby's International Realty, told The Times. "In our market for oceanfront, $28.5 million was an average price."
The number of sales is down more than 20% since the peak in 2007. The Times writes: "The Hamptons have become a solid buyers market, where listings at all price ranges are plentiful and huge price reductions are common."
I will confess that my experience of the Hamptons is limited to what I've seen on "Royal Pains" and "The Barefoot Contessa," with the occasional peek at "Curbed: Hamptons" and field trips by HGTV's "Selling New York." It certainly looks like a pretty place, but people in my world don't frequent the Hamptons. We tend to summer in our winter homes.
According to a recent Wall Street Journal article, new homes are more likely to be traditional than modern, and homeowners like privacy, but prefer foliage to fences.
The real-estate bust was a reality check for Hamptons homeowners, who were used to making big profits on flipping homes, according to broker Judi Desiderio. "Today's buyer is in it for the long haul," she told The WSJ.
Cocktail party conversation focuses much less on real estate than it used to, says venture capitalist Christopher Burch, one of those who made some tidy profits from Hamptons flips. "People were excited about making good investments and that their property values were going up," he told The Times. "Today, real estate is just not as much of a conversation piece as it was in the past."
"Curbed: Hamptons" notes: "We haven't noticed this trend … are we just hanging out with the wrong crowd?"
If real estate does come up, you don't want to be the homeowner who paid too much, says broker Susan Breitenbach, who adds that her clients want to see only properties with reduced prices. She told The Times: "The worst thing that could happen is you are at a cocktail party and somebody could say, 'Oh, you paid that for that?' They are more concerned about that than anything else."
FIND YOUR DREAM HOME OR APARTMENT
msn real estate is social
WHAT'S YOUR HOME WORTH?
HOME IMPROVEMENT PROFESSIONALS
more on msn real estate