'Foreclosure quilts' show crisis in fabric
California artist borrows a page from history and applies modern technology to create a graphic representation of the effects of foreclosure.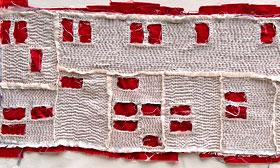 What does foreclosure look like?
Is there a way to show what it does to the fabric of a neighborhood? Artist Kathryn Clark of San Francisco, who has also worked as an urban planner, is portraying the foreclosure crisis graphically in fabric by creating "foreclosure quilts."
"It was such an important topic, but didn't seem like it was being covered in a visual way," she told The Atlantic Cities. "You would just see a lot of statistics about foreclosures in the news, and you wouldn't actually see the real effect of it. I had been looking at maps of neighborhoods, seeing just how many foreclosures there were, and trying to figure out a way I could present that in my art."
Post continues below
Clark took some of her inspiration from the quilts made by generations of African-American women in Gee's Bend, Ala., which often portrayed the hardships in their lives. She sought to apply that aesthetic to the hardship of foreclosure.
To create the quilts, she subscribed to RealtyTrac to get accurate foreclosure information, with actual street addresses. She hand-pieces the fabric, cutting holes at the location of foreclosures, making the fabric as fragile and vulnerable as the neighborhoods. For some quilts, she picks the hardest-hit neighborhoods and for others she picks areas that will make an interesting art piece.
She has made nine quilts so far, showing pieces of Riverside, Calif.; Modesto, Calif. (photo); Detroit; Cape Coral, Fla.; Las Vegas; Cleveland; Albuquerque, N.M.; Atlanta; and Phoenix. 
This quilts are on display this month at the Rochester Contemporary Art Center in New York, and they will be exhibited in July at Warm Springs Gallery in Charlottesville, Va.
What she found as she researched foreclosure neighborhoods surprised her. She told The Atlantic Cities:
"I initially thought foreclosures would all be in the inner cities, and I was really surprised to find out that so many are also occurring in the suburbs. There was this pattern where the early ones were in the inner city, then you start to see them out in the suburbs, and now since it's become so pervasive you're seeing it back in the cities again."
FIND YOUR DREAM HOME OR APARTMENT
msn real estate is social
WHAT'S YOUR HOME WORTH?
HOME IMPROVEMENT PROFESSIONALS
more on msn real estate