Listing of the Week: Pitcher's home has carnival flair
Listed for $2.25 million, the Las Vegas home of probable Hall-of-Famer Greg Maddux features a peculiar installation in the living room.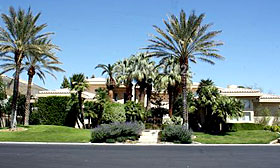 For baseball fans, Greg Maddux ranks as one of the top pitchers to have played the game — a surefire bet for Major League Baseball's Hall of Fame when he's eligible for election next year, based on his 23 seasons for the Atlanta Braves, Chicago Cubs and two other teams from 1986 to 2008.
For nonfans, he's an interesting one: He didn't throw hard, at least for most of his career, yet he won more games than all but seven pitchers ever and struck out more hitters than all but nine of them. He wore glasses, though usually not while pitching. He's known as one of the most cerebral athletes of all time.
And yet there's one addition to the Maddux Myth we've yet to account for. In the living room of his 8,404-square-foot Las Vegas mansion, listed for $2.25 million, "Mad Dog" proudly displays a merry-go-round horse.
Post continues below
Here's where things get weird: According to Realtor.com's blog, the $7.2 million Milton, Ga., mansion of longtime Maddux teammate John Smoltz — whose number the Braves will retire next Friday — also features a standalone merry-go-round horse. Smoltz's appears to have its own room.
Now the baseball field on Smoltz's property and the baseball-themed bedroom in the home of fellow Braves teammate Tom Glavine, those make sense. But what forces would lead two of the 1990s' best baseball players to display something out of a carnival in their homes? Web searches have turned up few good leads.
A few possibilities:
As for the rest of the Maddux home, it features five bedrooms, seven bathrooms, a three-car garage and frontage to a golf course. It was built in 1990.
From Realtor.com's blog:
Maddux starts things off in the grand foyer with marble-lined floors and an elaborate spiral staircase. Moving further into the home, there are a number of various living room areas, including a sunken area and a formal sitting room off the front entry. A chef's kitchen, lined in red granite, features a sizable center island and looks out onto a garden, while the family room sports an impressive wet bar and a pool table. Head upstairs to find the Maddux master suite, which comes complete with walk-in closets, a built-in entertainment center and a private balcony. And the party doesn't stop there, as Maddux's backyard takes on an oasis theme with a pool and waterfall, tropical pond and walkway combo, and a sweet outdoor kitchen setup.
Maddux, 46, has lived in Las Vegas since his high-school years. According to baseball-reference.c​om, he earned at least $153 million in his major-league career. He now works as a special assistant to the Texas Rangers.
— Tony Stasiek is a producer/editor at MSN Real Estate.
FIND YOUR DREAM HOME OR APARTMENT
msn real estate is social
WHAT'S YOUR HOME WORTH?
HOME IMPROVEMENT PROFESSIONALS
from our partners