Foreclosures fall to lowest level in more than 5 years
While the number of completed foreclosures fell, the number of foreclosure starts rose nationwide and in 16 states, with some states seeing large increases.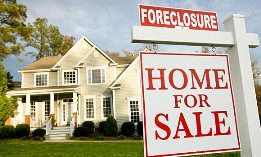 The number of completed foreclosures nationwide fell again in February, to the lowest level in more than five years.
But while the number of completed foreclosures was down in 41 states, foreclosure starts rose in 16 states. Nationwide, foreclosure starts increased 10% from the previous month, though they remained 25% below the February 2012 level, according to new data from RealtyTrac.
The total number of completed foreclosures, 45,038, was down 11% from the previous month and down 29% from February 2012. That was the lowest level since September 2007 and half the number reported at the peak of the foreclosure crisis in March 2010. But it's still more than twice the number considered normal.
The number of properties receiving foreclosure filings, which include default notices, sale notices and actual repossession, was 154,281 in February, up 2% from January but down 25% from February 2012.  One in 849 homes in the United States received a foreclosure filing in February.
"At a high level, the U.S. foreclosure inferno has been effectively contained and should be reduced to a slow burn in the next two years," Daren Blomquist, vice president at RealtyTrac, said in a news release. "But dangerous foreclosure flare-ups are still popping up in states where foreclosures have been delayed by a lengthy court process or by new legislation making it more difficult to foreclose outside of the court system."
Sixteen states saw more foreclosure starts in February 2013 than they did in February 2012, with some reporting large increases.
The states reporting the greatest increase in foreclosure starts year over year were Nevada, 334%; Maryland, 319%; Washington, 172%; New York, 139%; and New Jersey, 70%. Those were followed by Iowa, up 63%; Utah, up 30%; and Florida, up 13%.
The number of completed foreclosures was down from a year ago in 41 states, with the greatest decreases in Oregon, 78%; Massachusetts, 69%; Nevada, 59%; Georgia, 58%; and California, 49%.
For the sixth month in a row, Florida posted the highest foreclosure rate, with one in every 282 housing units receiving a foreclosure filing in February. That was followed by Nevada, Illinois, Ohio, Washington, Arizona, Georgia, Utah, Maryland and Michigan.
Are you sure you want to delete this comment?
About Teresa Mears
Teresa Mears is a veteran journalist who has been interested in houses since her father took her to tax auctions to carry the cash at age 10. A former editor of The Miami Herald's Home & Design section, she lives in South Florida where, in addition to writing about real estate, she publishes Miami on the Cheap to help her neighbors adjust to the loss of 60% of their property value.
msn real estate is social
FIND YOUR DREAM HOME OR APARTMENT
WHAT'S YOUR HOME WORTH?
HOME IMPROVEMENT PROFESSIONALS
from our partners