Would you sit on a $6,390 toilet?
Kohler's new Numi is controlled by a tablet remote, which operates the toilet's functions and its sound system. Yes, it has a sound system.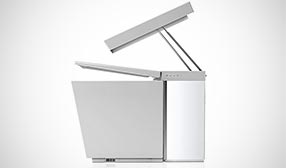 Even in a recession, there are people who have money to spend.
For those who want the ultimate in bathroom fixtures, Kohler has unveiled its new Numi toilet. Price tag? $6,390.
For that price, you'd expect a toilet to do more than the appointed chores, and this one does. It includes a bidet, a dryer, a heated seat and a foot warmer.
And it doesn't just sit silently and do what toilets do. It will play a song for you (a peaceful, easy listening piano piece), or you can just attach your MP3 player and listen to your entire music library from the speakers in the back. Maybe you'd prefer to listen to the FM radio included in the toilet's music system – three words I have never typed together before.
Here's one feature that could prove invaluable in any bathroom shared by men and women: The lid automatically opens when you approach. There is a foot-operated sensor a man can tap to raise and lower the seat, and the seat and lid close when you leave. Of course, the toilet flushes automatically, but you expected that, didn't you?
The toilet can be programmed for the preferences of up to six individuals. It does require an electrical connection, not normally required for toilet installation. You control the music system, the water temperature in the bidet and other features through a table-like remote.
"It's an emotional sell, but it's also a very advanced technology sell for those individuals who want the latest, the best in the world in terms of design and technology," Kohler President David Kohler told The New York Times. "It's got a huge cool factor."
Post continues below
The toilet will be available in the United States this fall, in white or biscuit.
Sam Biddle from Gizmodo got to try out the Numi and was blown away, but not by the automatic dryer. You can see his video demonstrating the toilet's features here. He writes:
But beyond the decadence, there's some really great design ($6,400's worth, I'm not so sure, but still). A motion detector, indicated by a blue spotlight, allows you to raise and lower the seat with a foot-tap -- a victory for all of lazy mankind. But it's also hygienic! As is the automatic flush, which'll kick in varying power levels depending on the amount of time you've been sitting. And the lid? Also controlled without grabbing anything but the touch screen. It's a germaphobe's delight. This all might be old hat in Japan, but it's nice to see ol' Uncle Sam catching up in the great Commode Race.

So Kohler is finally catching up to the Japanese.
If they send me one I will test it for them and give them a review. Otherwise I'll stick to the $250 toilets. Besides I need to work off that cheeseburger by actually opening the seat and flushing it manually. Phew! I'm exhausted just thinking about all that work.
Are you sure you want to delete this comment?
FIND YOUR DREAM HOME OR APARTMENT
msn real estate is social
WHAT'S YOUR HOME WORTH?
HOME IMPROVEMENT PROFESSIONALS
more on msn real estate