Sandy rebuilding: Time for new rules and materials?
Officials and residents are asking whether it makes sense to rebuild in the same places and with the same materials, considering the risk of future storms.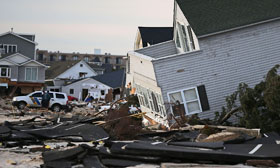 Looking at the damage wrought by superstorm Sandy through the eyes of a Floridian, it's hard not to wonder what the writers of building codes in New York and New Jersey were thinking.
The idea that wood-frame houses are the norm along a hurricane-prone coast is hard to fathom for those of us who live where nearly all homes are built of concrete block. Block homes are not hurricane-proof -- poured concrete is stronger -- but they are stronger than wood.
But concrete-block homes apparently are quite unpopular in much of the United States, even though they provide more protection against not only storms but also termites.
"Brick and block is the way to go," Peter Nicchitta told The Wall Street Journal. Nicchitta angered his neighbors when he tore down an old wooden house and built a new one of rock and brick in Belle Harbor on the Rockaway Peninsula of New York.
His house, built a story above ground, withstood wind and waves that destroyed the homes of his neighbors. Those who once scoffed at brick and block homes are now taking another look. We should note that it's possible to build a small concrete-block house if you and your neighbors don't favor McMansions.
The process of looking at how and where to rebuild after Sandy is already under way. The federal flood-insurance program is getting renewed scrutiny as people raise the perennial question of why the federal government enables building in areas that are likely to flood again.
Cities and counties are looking at whether it makes sense to rebuild in the same places and in the same way. Maybe homes should be farther from the water. Maybe they should be sturdier.
"The best thing that could possibly come out of Sandy is if the political establishment was willing to say, 'Let's have a conversation about how we do this differently the next time,'" Robert S. Young, a North Carolina coastal geologist, told The New York Times. "We need to identify those areas — in advance — that it no longer makes sense to rebuild."
Judging from Florida's experience, the debate is likely to go on for years.
The decisions come down to weighing costs versus benefits. In the Midwest, for example, the chance of any one house being hit by a tornado is so small that tornado-resistant construction is rare.
The chance of being hit by hurricane winds and rain is much greater along the East Coast, from Florida up to Maine, though no jurisdiction has adopted codes as strong as those in South Florida – and some think those codes are not strong enough.
"The building code is the minimum requirement. You have no choice but to meet that by law, but it doesn't mean it's the best or strongest design," Ricardo Alvarez, a Miami expert on structural issues, told The Miami Herald. "We should be building code-plus."'
While there is much pressure to rebuild the Jersey Shore and other hard-hit areas back to the way residents have loved them for decades, there is also some sentiment to be more careful. A poll taken last month found that 70% of New Jersey residents, including three-quarters of Shore residents, want the area rebuilt with stricter building codes. Of course, the poll did not measure just which stricter building codes resident would support. Houses on stilts? Concrete-block construction? Bigger setbacks from the beach?
Should residents whose homes and businesses were destroyed in Sandy be prohibited from building in the same way and the same place?
FIND YOUR DREAM HOME OR APARTMENT
msn real estate is social
WHAT'S YOUR HOME WORTH?
HOME IMPROVEMENT PROFESSIONALS
more on msn real estate