Foreclosures may not be a bargain
Zillow crunches some numbers and finds that foreclosures nationwide sell at only a 7.7% discount. In some cities, there is no discount.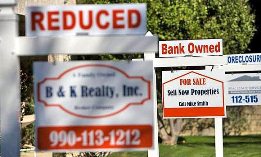 There was a time when you could save a lot of money buying a foreclosed home. Real-estate investors organized bus tours to scout out favorable foreclosure deals.
Just how much can you save? Today, only about 7.7%, according to a new study by the real-estate portal Zillow.
Zillow took issue with the methodology commonly used to compute foreclosure discounts: comparing the median sale price of foreclosures versus the median price of nonforeclosures. It noted that the pool of homes in foreclosure is not necessarily equal to the pool not in foreclosure.
"The homes may be different in size, location or a variety of other attributes that affect property value beyond simply their status as either foreclosure or nonforeclosure homes," Zillow economist Stan Humphries wrote at the Zillow blog.
He cites figures from Detroit that showed a 59% difference in foreclosure prices versus nonforeclosure prices. But the properties weren't equal, he notes. For one thing, the median foreclosure property was 1,200 square feet while the median nonforeclosure property was 1,700 square feet. It's hardly surprisingly the larger properties commanded higher prices.
"The 59% difference in the median values of foreclosures and nonforeclosures … is really an indication that cheaper homes are more likely to be in foreclosure than more expensive homes," Humphries wrote, "whereas many buyers likely interpret this figure as the discount they might expect on a foreclosure relative to the fair market value of the home, which it distinctly is not."
To reach its numbers, Zillow compared the sale price of foreclosure resales to the estimated market value of the homes.
Using that methodology, the biggest foreclosure discounts were available in September 2009, when foreclosures were selling at 23.9% below market value.
Not surprisingly, Zillow found that the foreclosure discount varies considerably by location, with 7.7% being the current national average. In Phoenix and Las Vegas, for example, buying a foreclosed property isn't any cheaper than buying a nonforeclosure property. In Cleveland and Pittsburgh, the discount is more than 25%.
How the foreclosure discount is computed is significant when it's time to consider how much future foreclosures will affect home prices. 
"It makes a big difference if you think that inventory priced 30% below market value is going to be hitting the market when actually the inventory is priced only 7% below market value," Humphries wrote. 
FIND YOUR DREAM HOME OR APARTMENT
msn real estate is social
WHAT'S YOUR HOME WORTH?
HOME IMPROVEMENT PROFESSIONALS
more on msn real estate