Home prices back to 2001 levels
With values close to what they were in 1989, after calculating inflation, should a home ever again be seen as an investment?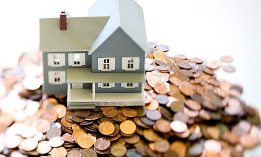 Now that the holidays are over, it's time for us to dissipate the holiday glow generated by that little bit of positive housing market data at the end of 2011.
Sure, pending home sales are up, but consider this: Home prices are now at 2001 levels.
Taking into account inflation, prices not only are at 2001 levels but close to 1989 levels, says David Blitzer, chairman of the index committee at S&P Indices, analyzing the latest S&P/Case-Shiller data.
Post continues below
"This shouldn't suggest that home prices never rise faster than inflation any more than the arguments for investing in your home — they're not making any more land or everyone has to live somewhere — should be ignored," Blitzer wrote at Housing Views. "Rather, the runup and the rundown in prices in the 2000s didn't do much for average home values while they wreaked havoc on the economy."
The country is littered with the damage caused by the runup in home prices of the mid-2000s. Yes, some people who timed their buying and selling well ended up with a lot of money. But others, like many people who bought homes during those years, ended up losing their home and everything they had invested, or owing tens of thousands -- and in some cases hundreds of thousands -- more than their home is worth.
Blitzer's comments are a reminder that rising home values – unless we get high inflation – are unlikely to bail many of those people out.
Plus, we're also reminded that one lesson of the real-estate crisis is to think of your home as a place to live, not as a way to acquire wealth. University of Southern California economics professor Robert Bridges wrote earlier this year that $1 invested in a California home in 1980 would have yielded $2.98 in 2010, while $1 invested in the stock market would have yielded $11.49.
Still, Americans see homeownership as their best investment. Perhaps they are taking into account the intangibles, such as neighborhood ties and the right to paint the rooms any color you please. While your house may not be your best retirement savings option, owning a home gives you a cheaper place to live once you've paid off the mortgage.
Is buying a home a good idea? It depends. Writes Blitzer:
There isn't a general answer to the question because it depends on the economy, the real-estate market and, most of all, on the needs, desires and finances of the potential buyer.
What do you think? Is buying a home a good investment?
FIND YOUR DREAM HOME OR APARTMENT
msn real estate is social
WHAT'S YOUR HOME WORTH?
HOME IMPROVEMENT PROFESSIONALS
more on msn real estate