No backyard? In New York, you can rent one
A vacant lot in the East Village rents space for $100 an hour to grass-starved New Yorkers who want a place to throw a barbecue.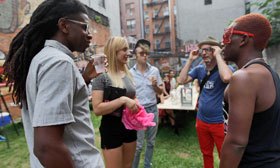 For many Americans, summer is the time to enjoy backyard barbecues. If you live in New York City, however, you are likely not to have a backyard.
Don't despair: You can rent a yard for your barbecue, complete with equipment, in Manhattan's East Village.
What is known as the Timeshare Backyard is back for a second season, and New Yorkers are shelling out $100 an hour to rent the space and throw a party for up to 30 of their friends.
Post continues below
"It's something that I feel like a lot of us grew up with. It's something that we give up to move here," Emily Kapsner, who grew up in Minnesota,
told The Associated Press
. "I feel like when you live in New York, you give up a lot of standards of living, you know. So having this open and available again is kind of reminiscent of being back home."
The Timeshare Backyard is run by Jessica Resler and Jacqui Kavanagh, who came up with the idea when they saw the vacant lot, site of a stalled construction project, last year. They approached the company that owns the property, which agreed to rent it out.
"When we first launched it, we thought, 'Oh, maybe this will be interesting to about 30 people,'" Resler told The AP. "And one day we walked into our office and we had 1,000 emails come in from people that wanted to rent the space or were curious about it."
The Timeshare Backyard isn't really a backyard but a vacant lot between two buildings, surrounded on three sides by graffiti-covered walls. But it comes with a charcoal grill, picnic tables, coolers, hammocks, lounge chairs and even hula hoops, squirt guns and pink plastic lawn flamingoes.
You'd better take advantage of this yard-rental opportunity while you can. The company that owns the property has it listed for sale for $6.5 million. An eight-story building could end up filling the site.

I hope they can get the city and owners to lease for 99 yrs. Everyone wins.....owner gets money guaranteed profit....citizens get a place to go to for family, company, and celebrations for weddings. The city still gets taxes on the money made to run this business. It might not be $6.5 million all at once but in the long run they can certainly get that much over time. I think. 
Are you sure you want to delete this comment?
About Teresa Mears
Teresa Mears is a veteran journalist who has been interested in houses since her father took her to tax auctions to carry the cash at age 10. A former editor of The Miami Herald's Home & Design section, she lives in South Florida where, in addition to writing about real estate, she publishes Miami on the Cheap to help her neighbors adjust to the loss of 60% of their property value.
msn real estate is social
FIND YOUR DREAM HOME OR APARTMENT
WHAT'S YOUR HOME WORTH?
HOME IMPROVEMENT PROFESSIONALS
from our partners